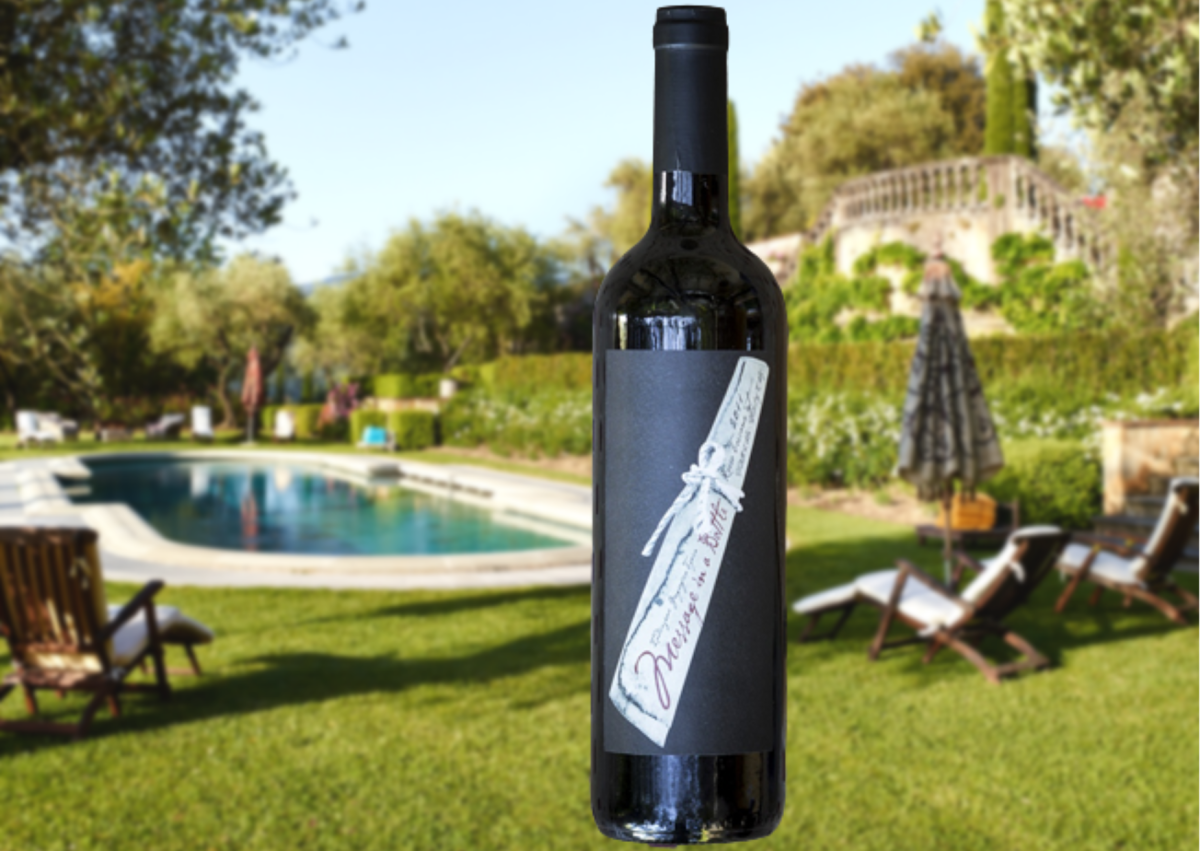 La tenuta Il Palagio è situata tra le dolci colline toscane a sud di Firenze e dal 1997 appartiene al cantante Sting, celebre voce dei Police. Sting e la moglie, Trudie Styler, affascinati dalla Toscana e dalla sua atmosfera rurale, risiedono spesso nella casa privata che si colloca su una proprietà di 350 ettari.
Questa straordinaria tenuta cinquecentesca immersa tra i vigneti dell'area del Chianti sorge sopra la cittadina di Figline e Incisa Valdarno. L'atmosfera suggestiva de Il Palagio offre panorami mozzafiato sulla campagna toscana, spettacolo da ammirare a bordo piscina o immersi nel parco privato. L'azienda agricola Il Palagio possiede uliveti e vigneti, dai quali si ricavano olio e vino, prodotti con metodi biologici. Dalla cantina di Sting escono etichette di pregio dedicate alle canzoni più famose dell'ex Police, come "Message in a Bottle", "Sister Moon" e "When We Dance".
Rosso Toscana IGT "Message in a Bottle" è ottenuto da uve Sangiovese (70%), con piccole aggiunte di altre varietà a bacca rossa. Dopo la vinificazione in acciaio il vino affina in botti di legno offrendo un sorso morbido e piacevole, dai sentori fruttati e speziati, con note di ciliegia matura e frutti di bosco in evidenza.
The Il Palagio estate is located in the rolling Tuscan hills south of Florence and since 1997 belongs to the singer Sting, the famous voice of the Police. Sting and his wife, Trudie Styler, fascinated by Tuscany and its rural atmosphere, often reside in the private house which is located on a 350-hectare property.
This extraordinary sixteenth-century estate surrounded by the vineyards of the Chianti area rises above the town of Figline and Incisa Valdarno. The suggestive atmosphere of Il Palagio offers breathtaking views over the Tuscan countryside, a spectacle to be admired by the pool or immersed in the private park. The Il Palagio farm has olive groves and vineyards, from which oil and wine are obtained, produced with organic methods. From the cellar of Sting come prestigious labels dedicated to the most famous songs of the former Police, such as "Message in a Bottle", "Sister Moon" and "When We Dance".

When Sting wrote his iconic song Message in a Bottle, he sang of the universal human need to connect. And what better way to enjoy a delicious bottle of wine than with friends. Message in a Bottle Toscana IGT is a versatile and very drinkable wine with a complex aroma of cherries, wild blackberries and spices, this wine will compliment many dishes, but goes most perfectly with friends, loved ones and convivial conversation. Send an SOS to someone to come and share it with you.