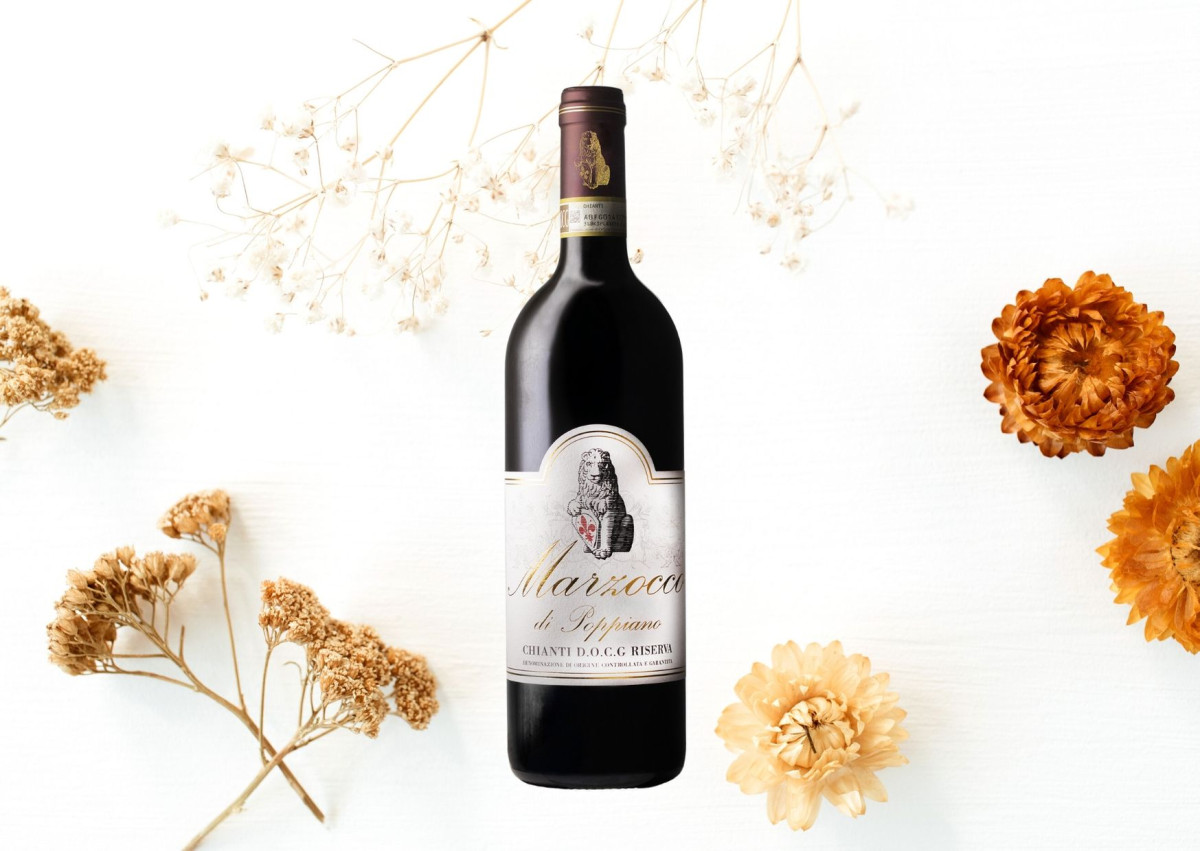 Siamo sulla collina di Poppiano, non distanti da Firenze, in un luogo dove i terreni diventano sciolti e ricchi di galestro. L'azienda nasce nel 1975 quando Alberto Chini e sua moglie Meri Lori acquistano dalla famiglia dei Conti Guicciardini Corsi Salviati i poderi Marzocco, Pretale e La Massa. Oggi ad accogliere in azienda con cordialità e raffinata eleganza ci sono Roberta Chini e suo marito Maurizio: 70 ettari di proprietà di cui 35 vitati, che vedono protagonista il Sangiovese, capace di raccontare alla perfezione questo territorio di rara bellezza e le sue antiche tradizioni.
Chianti Riserva DOCG viene prodotto con uve Sangiovese (90%) e Cabernet Sauvignon (10%) raccolte nelle vigne di Poppiano a Montespertoli. Dopo un'accurata selezione, le uve vengono vinificate separatamente in piccoli serbatoi di cemento a temperatura controllata. Seguono poi la macerazione, che dura solitamente intorno ai 25 giorni e la fermentazione malolattica. A questo punto il 70% del vino sangiovese viene fatto maturare in botti grandi mentre il restante, con la quota di cabernet sauvignon, in barriques, entrambi per 18 mesi. Una volta eseguito l'assemblaggio, il vino viene posto in vasche di cemento per tre mesi, a cui ne seguono altri tre di affinamento in bottiglia.
Un rosso rubino con bagliori granato, il cui profilo olfattivo si stratifica su note floreali, quali Iris, marasca, piccoli frutti rossi e cenni di vaniglia. In bocca ha una buona intensità e persistenza, chiude con graffio sapido su note fruttate e balsamiche.
Un vino elegante ma allo stesso tempo gioviale, l'abbinamento perfetto per una tagliata ai funghi porcini.

Let's go to the Poppiano hill, not too far away from Florence, a place where the soils become rich in a particular Tuscan stone called galestro. The estate was founded in 1975 when Alberto Chini and his wife Meri Lori bought the Marzocco, Pretale and La Massa farms from the Conti Guicciardini Corti Salviati family. Nowadays the family business is run by Roberta Chini and her husband Maurizio: their philosophy consists in respecting the territory, enhancing the native grapes as well as the old clones. There are 70 hectares in total, 35 of which are under vineyards mainly planted with Sangiovese. However, there are traces of Canaiolo, Cabernet Sauvignon as well as some white varieties.
Chianti Classico Riserva DOCG is a blend of 70% Sangiovese and 30% Cabernet Sauvignon, both cultivated on the Poppiano estate. After the harvest, they are separated and individually fermented in small concrete vats. Once the malolactic fermentation is done, 70% of the Sangiovese wine is moved in French oak barrels, while the remaining 30% of Sangiovese together with the Cabernet Sauvignon will age in barriques for 18 months. Once the parcels are blended, the wine matures for the first 3 months in concrete vats, followed by other 3 months of bottle refinement.
A ruby red wine, with garnish shade. Olfactory notes of Iris, red fruits, cherry and vanilla. Medium acidity, and high alcohol. Medium bodied and balanced tannins with an intense finish.
A very elegant and refined Chianti Riserva, that matches perfectly a tagliata with porcini mushrooms.