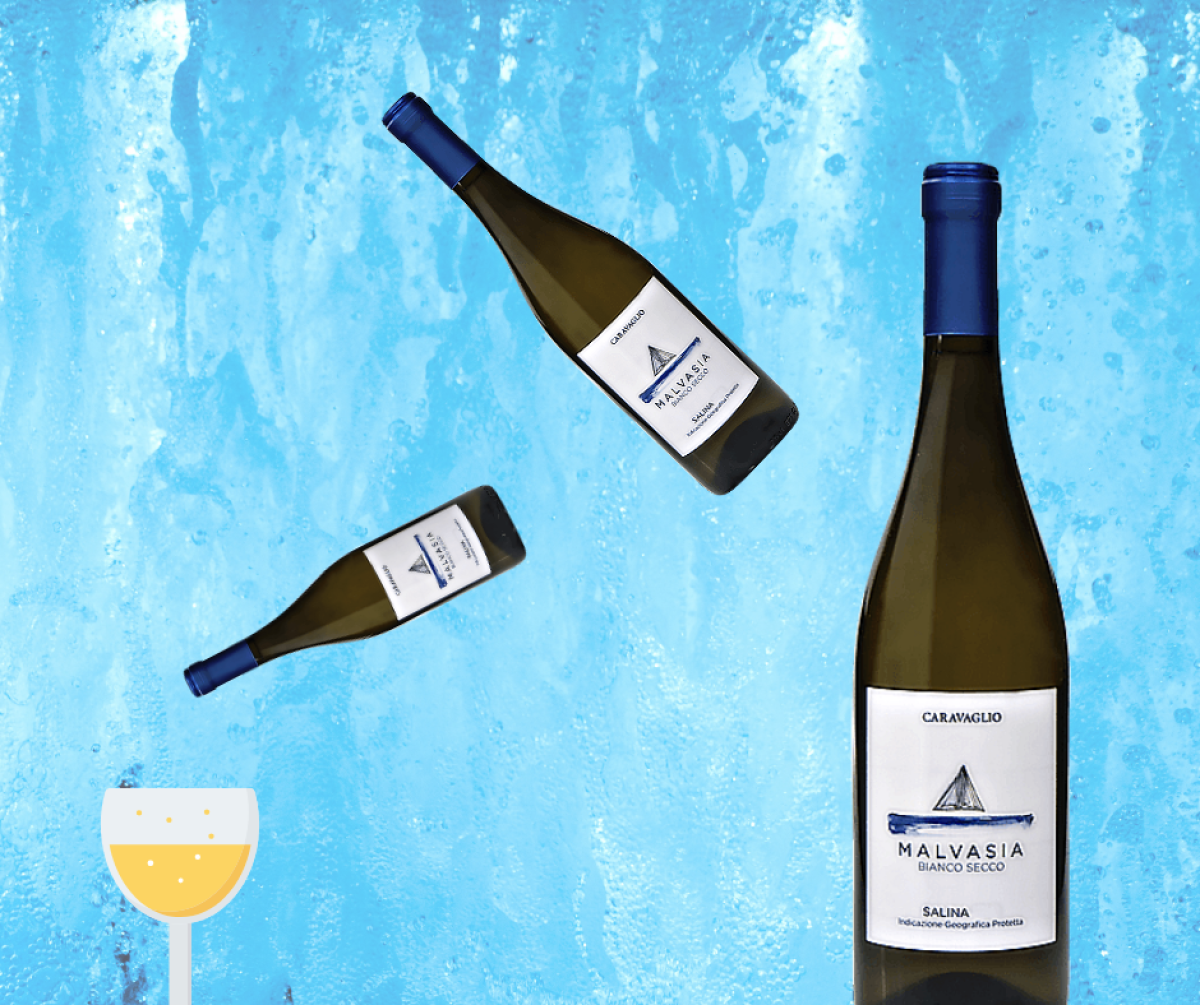 Scelte come dimora dal Dio del vento, le isole Eolie affascinano per i contrasti cromatici tra il nero della lava, il blu del mare e il verde della macchia e delle colture.
Siamo a Salina e più precisamente a Malfa, in contrada Gramignazzi, dove ha sede l'azienda agricola fondata nel 1989 da Antonino Caravaglio, che all'epoca possedeva solamente due ettari, la terra del padre. Successivamente si aggiunsero nuovi appezzamenti, terreni in affitto o acquistati tra Salina e Lipari, fino ad arrivare all'estensione attuale di circa 20 ettari. Qui si coltivano i vitigni che raccontano della cultura e della tradizione isolane: il Corinto nero, la Malvasia e il Nerello Mascalese. Grazie alle particolari condizioni climatiche e al rispetto profondo per la natura, l'azienda è da sempre certificata biologica; si producono inoltre capperi di pregiata qualità.
In questo affascinante vino troviamo un 90% di Malvasia di Lipari a cui si aggiunge un 10 % di altre varietà autoctone a bacca bianca. La fermentazione avviene in acciaio, a temperatura controllata e grazie all'utilizzo di lieviti indigeni.
Luminoso giallo paglierino, con profilo olfattivo che richiama il mare, con refoli iodati, ma anche note aromatiche in cui si distinguono il gelsomino, la mela, la pesca bianca e il pompelmo. In bocca è secco, preciso, magistrale e regala un lungo finale con una chiusura sapida su note fruttate.
Preziosa opera d'arte, che esalterà sicuramente un piatto di pasta con la mollica, tipica ricetta della provincia di Messina.
In Greek mythology it was the home of the God of the winds: the Eolian archipelago offers dramatic views of black lava stone, volcanic terraces, deep blue sea, and the emerald green of the countryside.

Antonino Caravaglio founded his winery in 1989 in Malfa, precisely in contrada Gramignazzi, in the island of Salina, a well-known place not only for the beautiful wines but also for the capers production. He started his project by cultivating native grapes (Malvasia di Lipari, Corinto and Nerello Mascalese) on two hectares of land, owned by his father. Later, he decided to rent and acquire more vineyards between Salina and Lipari, reaching the current extension, which is about 20 hectares. Caravaglio has always cultivated his grapes organically, respecting nature and favoring the microclimate.
This amazing wine is made from 90% of Malvasia delle Lipari, blended with 10% of other minor native white varieties. Fermentation is made in stainless steel tanks, with indigenous yeasts and controlled temperature. Medium lemon color and medium + intensity. Olfactory notes of floral (Jasmine) white stone fruits (peach) citrus fruits (grapefruit) and wet stone. Dry, high acidity, medium alcohol, medium body, medium + intensity and long finish.
We recommend you to pair it with Pasta con la mollica, a simple but tasty dish prepared with crunchy breadcrumbs, anchovies, hot pepper and garlic.