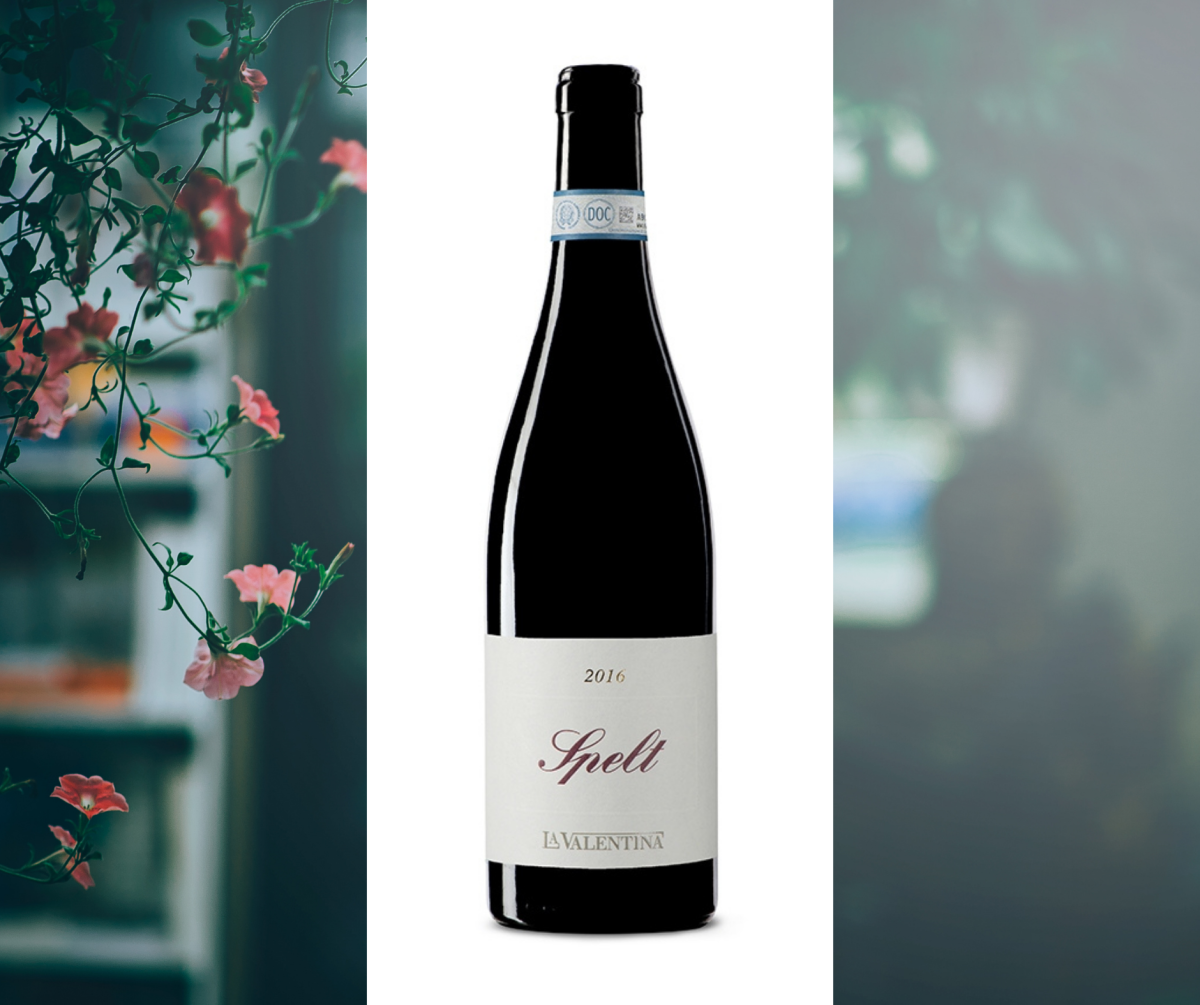 Siamo in Abruzzo, in una terra in cui le montagne, le colline e il mare riescono a dialogare amabilmente tra di loro, creando un ambiente privilegiato per la coltivazione della vite. Proprio sulle dolci pendici delle colline pesaresi nel 1990 nasce Fattoria La Valentina; quattro anni dopo Sabatino, Andrea e Roberto Di Properzio prendono in mano le redini dell'azienda per promuovere all'interno di un progetto a carattere familiare l'innovazione e la sostenibilità. La certificazione "senza pesticidi" avvalora l'impegno di esprimere al meglio le caratteristiche varietali delle uve coltivate che sembrano decifrare un terroir unico.
Spelt è ottenuto da Montepulciano d'Abruzzo in purezza, coltivati su terreni a medio impasto argillosi, in tre comuni - Spoltore, Scafa e San Valentino - ad altitudini comprese tra i 150 e 400 mt slm. Macerazione e fermentazione in tini di acciaio per circa tre settimane, seguiti da 16 mesi in legno tra botti, barrique e tonneau di diverso passaggio.
Manto rosso rubino intenso; corredo olfattivo stratificato che esprime sentori di ciliegia, prugna rossa, peonia, pepe, vaniglia, e tabacco. In bocca è secco, con tannini gradevoli a gestire la presenza di alcol e glicerina. Chiusura sapida su note di frutta rossa.
Perfetto con l'agnello al forno con patate.
The winery is located in Spoltore, in the beautiful countryside around Pesaro, in Abruzzo; there is a special microclimate here, due to the presence of the mountains, the hills and the Adriatic sea, elements that make this territory very interesting for viticolture.
Fattoria La Valentina was born in 1990; four years later Sabatino, Andrea and Roberto Di Properzio took over the reins of the company to promote within the family project innovation and sustainability. The "pesticide-free" certification confirms the aim to respect nature; the grapes here can express the varietal characteristics and the power of this unique terroir.

Spelt is obtained from 100% Montepulciano d'Abruzzo grapes, coltivated on clayey medium-textured soils, in three municipalities - Spoltore, Scafa and San Valentino, at altitudes between 150 and 400 meters above sea level. Maceration and fermentation take place in steel vats for about three weeks, followed by 16 months of aging in wood between barrels, barriques and tonneau of different ages. Intense ruby red. Olfactory notes of red fruits (cherries) stone fruits (red plum) floral (peony), spices (pepper, vanilla) and tobacco. Dry, medium acidity, medium tannins, high alcohol, full body, medium + intensity and finish. Good ageing potential.
Perfect with baked lamb with potatoes.