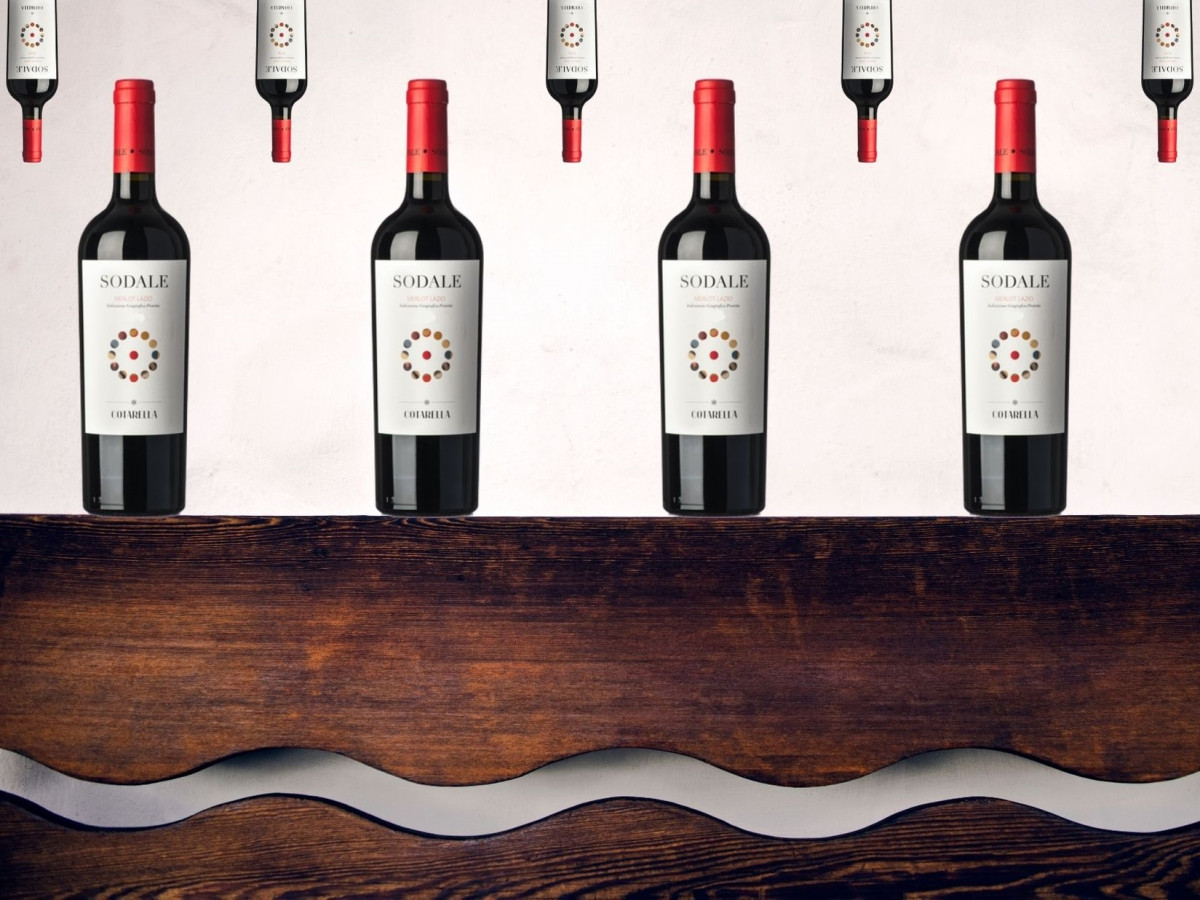 Tutto inizia nei dintorni di Monterubiaglio, a pochi km da Orvieto negli anni Sessanta, quando Antonio e Domenico Cotarella decidono di produrre vino in proprio e costruiscono la prima cantina. La passione per la viticoltura è nel DNA familiare: infatti nel 1979 i fratelli Renzo e Riccardo Cotarella fondano l'azienda Falesco a Montefiascone, promuovendo inoltre il recupero di vitigni antichi e autoctoni della zona. Dal 2016 le figlie Dominga, Marta ed Enrica - la terza generazione - subentrano ufficialmente alla guida dell'azienda, per continuare una tradizione di passione e qualità. Riccardo inoltre è diventato un enologo di fama internazionale e collabora con molte cantine, sostenendo progetti di promozione del vino italiano nel mondo.
Sodale 2017 IGT Lazio è un sontuoso Merlot: le uve sono coltivate nella zona di Castiglione Teverina, caratterizzata da suoli di origine sedimentaria con buona componente argillosa. Vendemmia manuale, solitamente la prima settimana di settembre. Fermentazione in acciaio, macerazione sulle bucce per circa 12 giorni, salasso del 15%. La malolattica ed il successivo affinamento per circa 9 mesi vengono svolte in barrique. Intenso rosso rubino con riflessi violacei. Fragrante ricordi di ciliegia, frutta matura, prugna, grafite a cui seguono note di boisè e di speziatura dolce. In bocca esprime una suadente morbidezza e avvolgenza, con tannini vellutati e perfettamente integrati. Di buona intensità e persistenza, chiude su note fruttate e vanigliate. Vino di grande personalità, da provare in abbinamento ai saltimbocca alla romana.
It all began in the Sixties in the district of Monterubiaglio, not far from Orvieto, when Antonio e Domenico Cotarella decided to produce wine on their own and built there the first winery. The passion for viticolture is in the family DNA: in fact, in 1979 the brothers Renzo and Riccardo Cotarella founded the Falesco winery in Montefiascone, with the aim of promoting the recovery of ancient native clones. From 2016 their daughters Dominga, Marta and Enrica - the third generation- took over the leadership of the company, to continue this tradition of quality with a great passion. Riccardo Cotarella is a renowed oenologist and he collaborates with many international and national wineries and he also supports many projects to promote the Italian wine around the world.
Sodale 2017 IGP Lazio is an amazing Merlot; grapes are cultivated in the territory of Castiglione Teverina, characterized by sedimentary - clayey soils. Harvest is done manually in the first week of September. It ferments in stainless steel tanks while maceration on the skins lasts for 12 days, with a salasso of 15%. The malolactic fermentation and the following 9 months of aging occur in barrique. Deep ruby red with violet reflections. Olfactory notes of red fruits (cherry) ripe fruits, plum, charred wood, vanilla, graphite. Medium - acidity, medium tannins, high alcohol, medium + body. Medium intensity and finish. It is a wine with a great personality, and we recommend you try it with Saltimbocca alla Romana (delicious meat rolls).