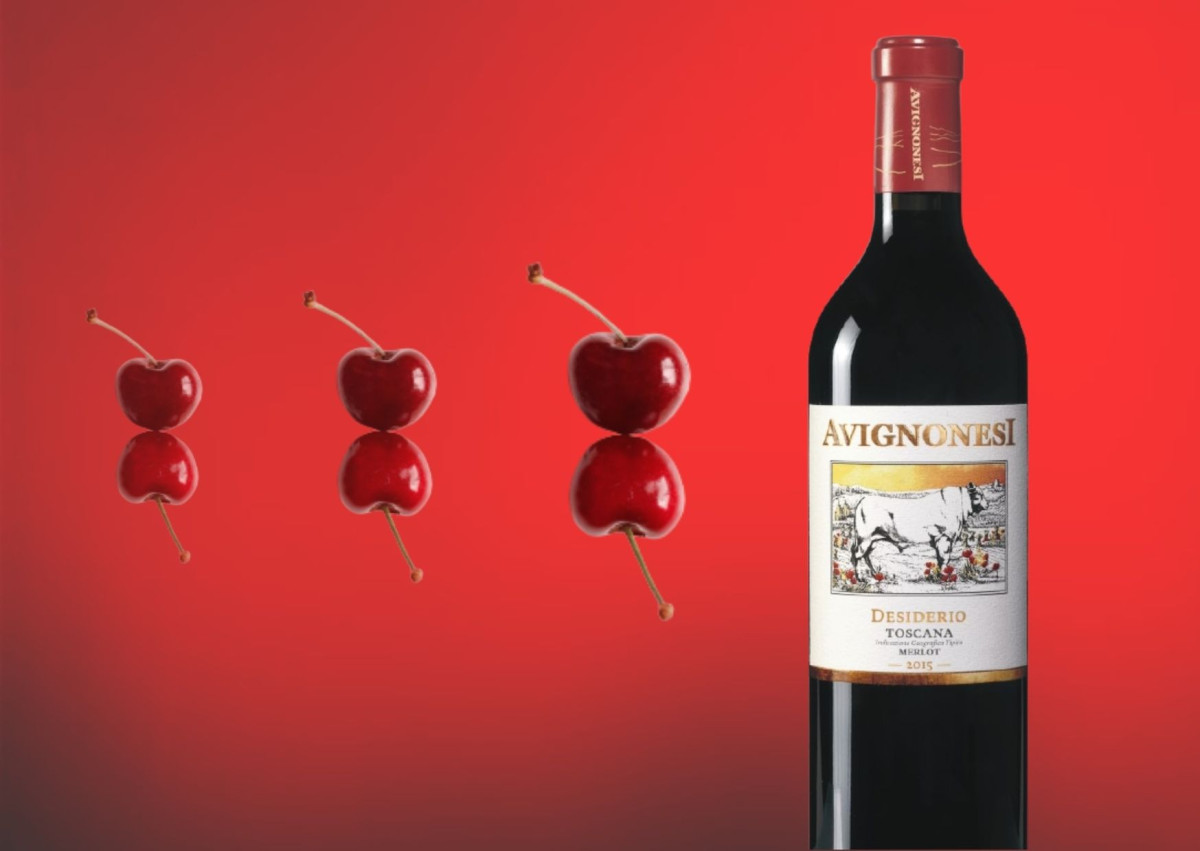 Avignonesi prende il nome dalla famiglia fondatrice, acquisita da Virginie Saverys nel 2009, nata in Belgio ma trasferitasi in Toscana per il suo amore e la passione per i vini pregiati. Avignonesi è cresciuta di dimensioni e allo stesso tempo è diventato leader nella viticoltura biodinamica in Italia. I vini Avignonesi esaltano la ricchezza e l'eleganza di Montepulciano e il fascino che circonda questa denominazione è accentuato dal ritorno ai principi fondamentali che la cultura biodinamica comporta.
Desiderio Toscana IGT 2015 è un vino con un impatto olfattivo esplosivo, balsamico, fresco, spazia dalla confettura di ciliegie e prugne ai sapori minerali che ricordano la grafite. Colore intenso, impenetrabile ma luminoso. L'ingresso è prorompente, un tannino elegante che accompagna, vivace, caloroso e avvolgente. Un vino dalla spiccata personalità che non gioca sulle seducenti morbidezze per piacere. Il vino è un 100% Merlot, dopo due/tre settimane di fermentazione a temperatura controllata, macerazione delle bucce in tini di acciaio inox con utilizzo di soli lieviti indigeni, svolge la fermentazione malolattica in legno e riposa 20 mesi in barrique.
Curiosità sull'etichetta: l'etichetta di questo vino è diventata simbolo di toscanità nel mondo, Desiderio era il nome di un toro che viveva nella fattoria Le Capezzine di Avignonesi più di cento anni fa. Il più grande toro in Toscana a quel tempo, questo maestoso animale contribuì a definire la razza bovina Chianina, specifica della Bistecca alla Fiorentina.
Si abbina bene con pasta fresca e sugo di cane mista, secondi di carne rossa, carne alla brace e sicuramente Bistecca alla Fiorentina.
Avignonesi winery takes its name from the founding family, acquired by Virginie Saverys in 2009, who was born in Belgium and moved to Tuscany thanks to her love and passion for wine. Avignonesi has grown and the same time has become a leader in biodynamic viticulture in Italy. The Avignonesi wines enhance the richness and elegance of Montepulciano and the charm that surrounds this denomination is accentuated by the return to the fundamental principles that biodynamic culture entails.
Desiderio 2015 Toscana IGT Rosso has a garnet red, olfactory notes of stone fruits, red fruits, balsamic and spicy hints. Dry, medium-acidity, medium tannins, high alcohol, full body, medium+intensity and long finish.
A wine with strong personality that does not play on seductive softness for pleasure. The wine is 100% Merlot, it ferments two or three weeks at a controlled temperature, then it follows a maceration of the skins in staninless steel vats using only indigenous yeasts, it carries out the malolactic fermentation in wood and it rests for 20 months in barrique.
Fun fact: the label has become a symbol of Tuscany in the world, 'Desiderio' was the name of a bull who lived in 'Le Capezzine' farm in Avignonesi over a hundred years ago. It was the biggest bull in Tuscany at that time. This majestic animal helped define the Chianina breed of cattle, specific to the Bistecca alla Fiorentina (Fiorentina steak).
It matches up with fresh pasta and mixed meat sauce, red meat main courses, grilled meat.