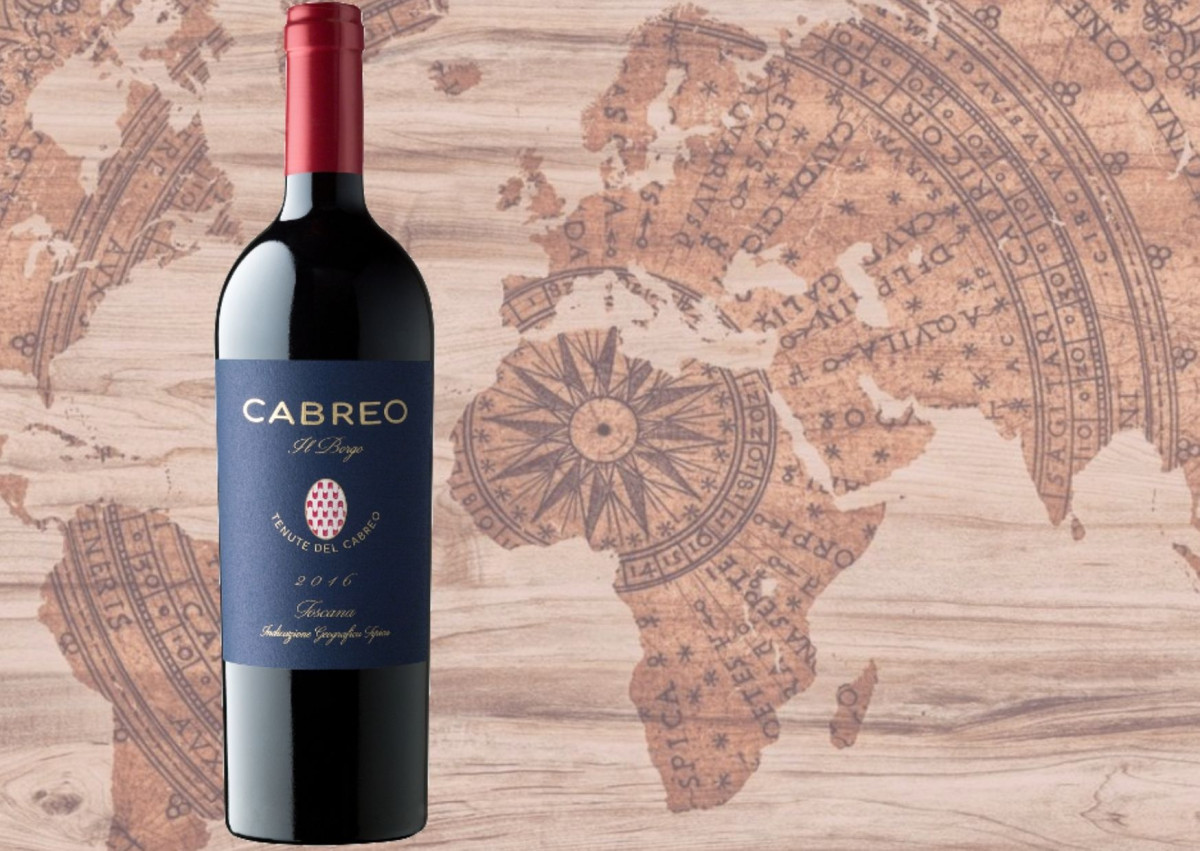 Ambrogio e Giovanni Folonari sono gli eredi di una storia che attraversa due secoli, l'Ottocento e il Novecento. Famiglia di origini bresciane, nel 2000 si fonda l'azienda che conosciamo adesso, composta da cinque tenute di proprietà distribuite nella zona dell'eccellenza Toscana, quelle più vocate per la produzione vitivinicola.  Innovazione, creatività, ricerca e rispetto della diversità sono i valori fondanti di questa famiglia dalla storia lunga generazioni.
Cabreo Il Borgo è una delle etichette che ha fatto la storia della cantina che lo produce sulle Colline di Greve in Chianti fin dal 1982 da uvaggio Sangiovese, Cabernet Sauvignon e Merlot. Vinificato in acciaio con macerazione sulle bucce per 18 giorni, affinamento in barrique per 18 mesi e 6 mesi in bottiglia, si definisce un Senior SuperTuscan.
Un vino dal colore rosso rubino luminoso, dagli aromi complessi e fascinosi come il peperone e la frutta fresca che regalano note fresche e balsamiche, il gusto è croccante molto ben integrato con un finale setoso, pieno, avvolgente (ma anche travolgente) e di persistenza superiore. Profondità potenza ed eleganza i suoi tratti sensoriali caratterizzanti.
A tavola: si abbina perfettamente con tutti i piatti di carne, lasagne, arrosti, carni rosse alla griglia, selvaggina, faraona ma anche con i grandi formaggi stagionati.
Curiosità: Cabreo, nome di autentica tradizione toscana, è la descrizione corredata di mappe dei possedimenti agricoli delle grandi famiglie fiorentine, mentre 'il borgo' prende il proprio nome dal più antico villaggio del Chianti (Montefioralle) la cui vista si ammira dai vigneti.
Ambrogio e Giovanni Folonari are the heirs of an history Italian Family that spans two centuries, the nineteenth and twentieth centuries. Family of Brescia origins in 2000 the company we know now was founded, consisting of five owned estates distributed in the area of Tuscan excellence, those most suited to wine production. Innovation, creativity, research, and respect for diversity are the founding values of this family with a long history of generations.
Cabreo Il Borgo is one of the labels that has made the history of the winery that produces it on Greve in Chianti hills since 1982 from Sangiovese, Cabernet Sauvignon and Merlot. Vinified in steel with maceration for 18 days, aging in barriques for 18 months in the bottle, it is defined as a Senior SuperTuscan.
A wine is lively ruby red, olfactory notes of herbaceous (tomato leaf), red fruits (red cherry and red plum) herbal and vanilla. Medium acidity, medium tannins high alcohol, full body medium +intensity and long finish, off dry.
It is delicious with all meat dished, lasagna, roasts, grilled red meats, game, guinea fowl but also with great aged cheeses.
Curiosity: Cabreo, a name of authentic Tuscan tradition, is the description accompanied by maps of the agricultural possessions of the great Florentine families, while 'the village' takes its name from the oldest village in Chianti (Montefioralle) whose view can be admired from the vineyards.