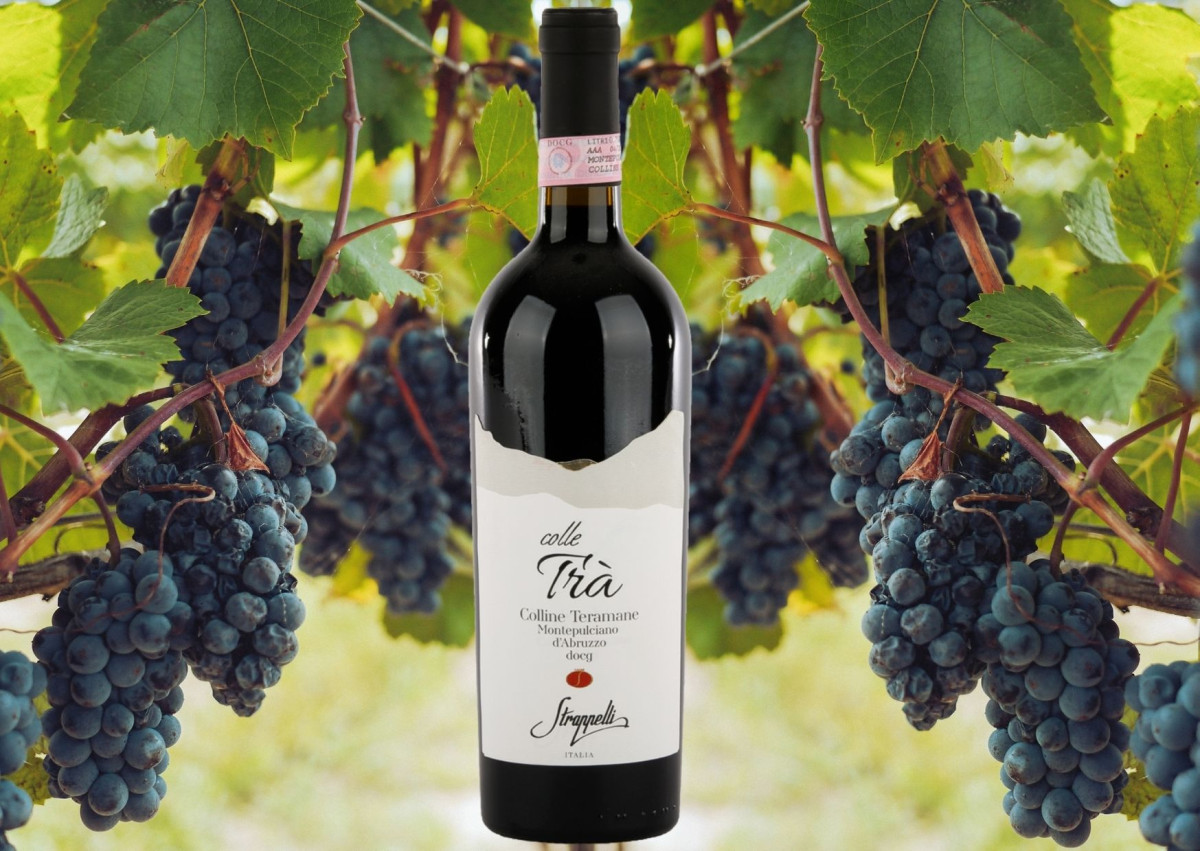 Nel cuore verde del comune di Torano Nuovo, in provincia di Teramo, sulla sommità della rigogliosa collina "Torri" che si erge tra l'Adriatico ad est ed il Gran Sasso a sud, nasce e si sviluppa l'Azienda Vitivinicola Strappelli. Dieci ettari di terreno completamente coltivati a vigneto e resi estremamente fertili dal clima dolce, caratterizzato dall'assenza di venti forti e da una sufficiente piovosità estiva. I terreni si trovano a 245 metri sul livello del mare e distano esattamente 18 km dal mare e dalla montagna.
La cantina, biologica dal 1990, produce due linee di prodotti: la linea classica Strappelli (in cui i vini conducono la fermentazione grazie all'aggiunta di lieviti selezionati) e una linea che prende il nome di Colle Trà, vinificata solo con lieviti indigeni.
Il contatto dei mosti con le bucce si protrae per circa 13/14 giorni, segue la fermentazione malolattica che avviene anch'essa sulle bucce subito dopo la fermentazione alcolica, preservando ed estraendo al massimo il colore rosso e vivo del vitigno Montepulciano.
Il Montepulciano d'Abruzzo è una varietà che se non 'domata' in vigna tende a produrre molto, tramite le giuste pratiche agronomiche, tra le quali la selezione del grappolo durante l'estate, si produce un vino equilibrato, di carattere e vivace, come solo il Montepulciano sa esserlo.
Colle Trà Montepulciano D'Abruzzo Colline Teramane DOCG 2016 è un vino senza dubbio strutturato e carico, il colore è impenetrabile ma il bordo si presenta luminoso con riflessi violacei, un vino in salute, al naso si sentono subito gli aromi primari secondari e terziari, colpisce l'armonico sentore di marasca. Un vino dinamico, di corpo con una bella acidità, balsamico, persistente con leggere note di liquirizia e giustamente tannico.
L'affinamento viene svolto in piccole botti di rovere di Slavonia da 15 hl per circa 12/18 mesi e successivo affinamento in bottiglia.
Accostamenti gastronomici: arrosti di carne, brasati, cacciagione e salumi.
In the green heart of the municipality of Torano Nuovo, close to Teramo, on the top of the luxuriant 'Torri' hill that rises between the Adriatic Sea and the Gran Sasso mountains, Strappelli Winery was born and developed in the early 90s. Ten hectares of vineyards are made extremely fertile by the temperate climate, characterized by the absence of strong winds and sufficient summer rainfall. The winery is located at 245 meters above sea level, and it is exactly equidistant 18 km from the sea and the mountain.
The winery, organic since 1990, produces two lines of products: the classic Strappelli line where the selected yeasts are added to the must and the Colle Trà line where instead the selected yeast are no added to the must, the fermentations work thanks to the indigenous yeast.
The alcoholic fermentation lasts for 13/14 days, followed by malolactic fermentation which also takes place on the skins to preserving and extracting the bright red colour of the Montepulciano grape as much as possible.
Montepulciano d'Abruzzo is a variety that produced a lot, so through the right agronomic choices including the selection of the bunch during the summer, a balanced wine with character and lively is produced.
Colle Trà Montepulciano D'Abruzzo Colline Teramane DOCG 2016 wine is Deep ruby red, olfactory notes of red fruits, black fruits, floral, spices and balsamic hints. Dry, medium acidity medium tannins, high alcohol, full body, medium +intensity and finish.
The wine aged out in small 15 hl Slavonian oak barrels for about 12/18 months and subsequent refinement in the bottle.
It goes well with roast meats, braised meats, game, and cold cuts.