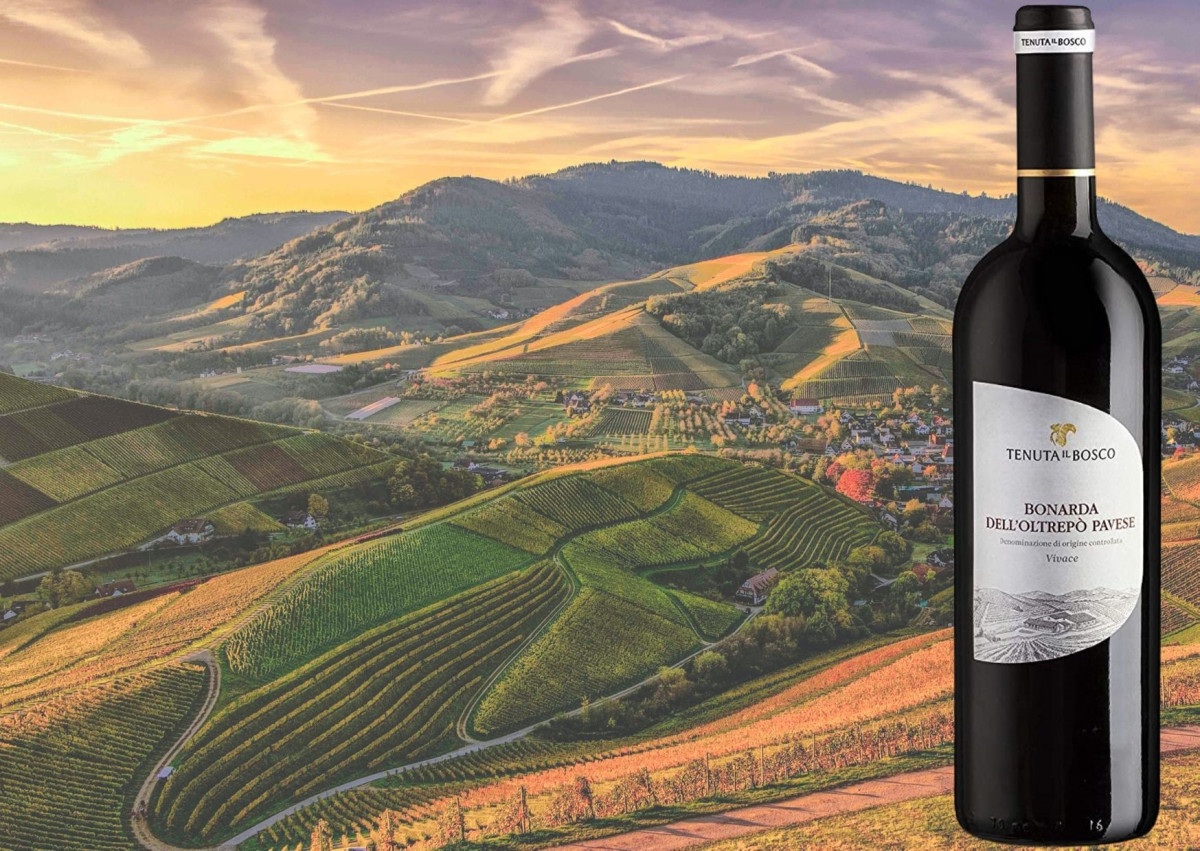 Le vigne di Tenuta Il Bosco si estendono su morbide colline modellate migliaia di anni fa dall'azione delle morene glaciali che hanno depositato uno strato di argilla ricco di sali minerali, rendendolo terreno vocato alla coltura della vite. L'Oltrepò è stata nei secoli una terra molto contesa. Attraverso i trattati di pace passò nelle mani delle grandi potenze del tempo: Francia, Spagna e Austria, ma è solo dal 1860 che l'Oltrepò diventò territorio lombardo.
Tenuta Il Bosco si trova a Zenevredo, piccolo comune della provincia pavese, acquisita nel 1987 dalla famiglia Zonin conta oggi 152 ettari di vigneti di proprietà. Nella fase di ampliamento dei vigneti, è stata privilegiata la grande ricchezza di varietà autoctone nobili come la sorprendente Bonarda e la Barbera, che raggiungono eccezionali standard qualitativi. La Bonarda è un vitigno a maturazione medio-tardiva, presenta dei grossi grappoli che sono alla base di vini briosi e profumati di frutta rossa della zona.
Bonarda Oltrepò Pavese DOC 2018 è un vino dal colore rosso rubino intenso e violaceo, un profumo fragrante, ricorda la viola, la mandorla amara, l'amarena e la prugna, a tratti balsamico e speziato, un gusto che riempie la bocca, fresco con un retrogusto asciutto morbido e sapido.
Vinificato secondo tradizione per esaltarne il piacevole fruttato, viene in un secondo momento rifermentato per ottenere una fragrante vivacità.
Ideale con salumi freddi e caldi, carni bianche e rosse arrosto e in umido, formaggi mediamente stagionati.
Tenuta il Bosco vineyards are extended over gentle hills shaped thousands of years by the action of glacial moraines that have deposited a layer of clay rich in mineral salts, making it a suitable soil for growing grapes. Over the centuries, Oltrepò has been a much-disputed land. Through the peace treaties it passed into the hands of the major powers of the time: France, Spain and Austria, but it was only from 1860 that the Oltrepò became Lombard territory.
Tenuta il Bosco is located in Zenevredo a small town in the province of Pavia, purchased in 1987 by the Zonin family and today has 152 hectares of owned vineyards. In the phase of expansion of the vineyards, the great wealth of noble native varieties such as the surprising Bonarda and Barbera, which reach exceptional quality standards, was privileged. Bonarda is a medium-late ripening vine, it has large bunches that which produce lively and fragrant red fruit wines of the area.
Bonarda Oltrepò Pavese DOC 2018 is a ruby red wine with purplish reflections, olfactory notes of red fruits, floral and spices, dry, medium acidity, low tannins, medium alcohol, medium - body, delicate mousse, medium +intensity and medium finish.
Ideal with roasted meat and stewed white and red meats, medium-aged cheeses.