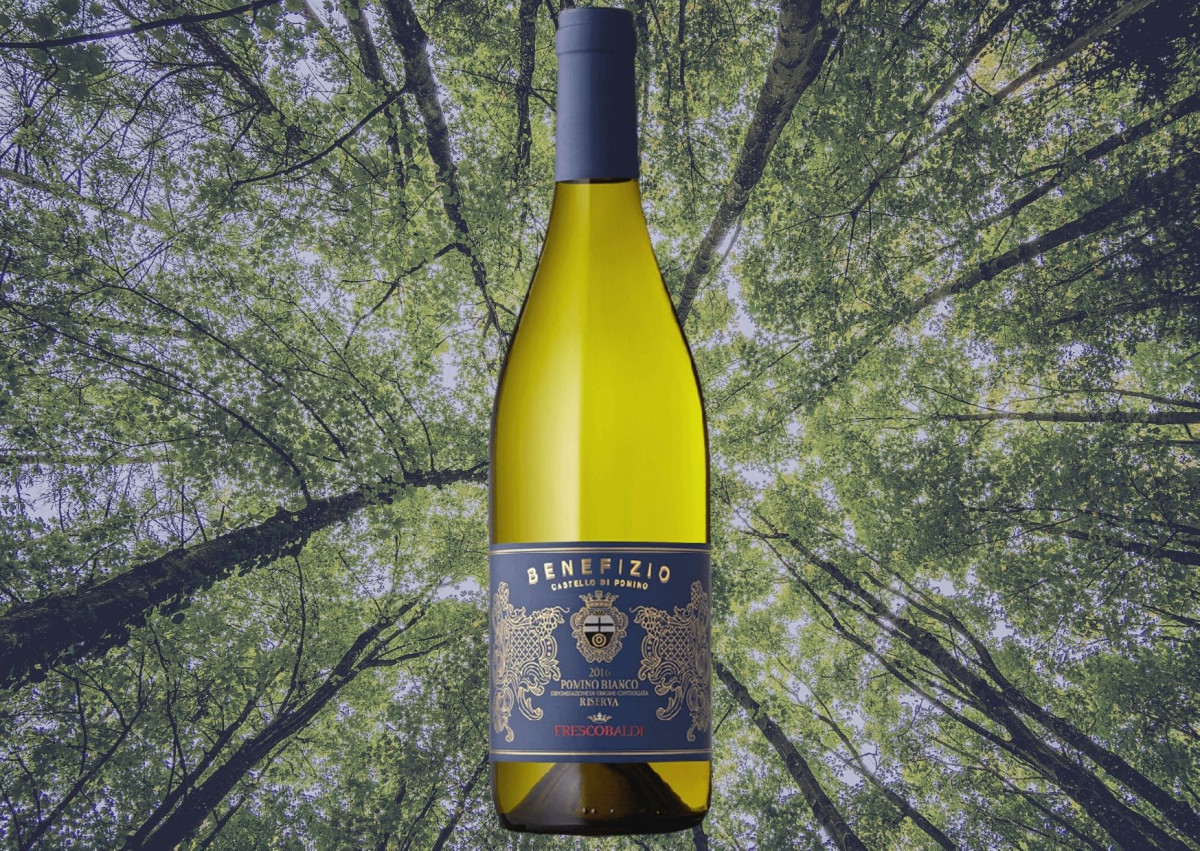 La famiglia Frescobaldi incarna l'essenza della Toscana grazie alla sua straordinaria vocazione per l'enologia. L'impegno nella viticoltura e nell'agricoltura in generale rappresenta da sempre un aspetto carismatico della famiglia Frescobaldi, che da settecento anni produce vino in Toscana. La famiglia, inoltre, annovera tra i suoi antenati illustri letterati, esploratori, musicisti, banchieri, vescovi e uomini politici.
La Tenuta di Pomino risale al 1500, anno di costruzione dell'omonimo Castello e fin dall'inizio si distingue per l'eccellenza del luogo in cui sorge. Ne è testimonianza la vicenda del 1716, quando il granduca Cosimo III de' Medici individua i quattro territori più vocati della Toscana per produrre vini di qualità: nel bando, considerato il precursore delle moderne DOC, il territorio di Pomino è elencato accanto al Chianti, al Carmignano e al Val d'Arno di Sopra.
Benefizio Pomino Bianco DOC Riserva 2016 è un vino che racconta la storia dello Chardonnay in Toscana: questa varietà viene introdotta nella Tenuta nel 1855 ma solo nel 1973, nasce Benefizio, il primo vino bianco in Italia ad effettuare la fermentazione in barrique – dal 2005 diventa Benefizio Riserva. I terreni che ospitano questo prestigioso vitigno sono ricchi di sabbia con forte presenza di scheletro, molto drenanti, ricchi in elementi minerali. Prodotto con uve 100% Chardonnay, Benefizio riposa in barriques 50% nuove di rovere francese e 50% di un anno per 10 mesi. L'influenza di una vivace brezza casentinese accompagna per tutta l'estate i grappoli, all'assaggio infatti gli acini presentano un'incredibile vivacità al palato, carattere dominante di un'estate fresca. Il vino presenta un colore oro chiaro, al naso l'elegante tostatura del rovere, con le tante declinazioni che vanno dal sentore di nocciola alle note più spezie, è perfettamente fusa con gli aromi floreali di acacia. Vino ben bilanciato da sapidità e freschezza, al palato ha un'intensità di aromi, chiude un retrogusto di frutta secca.
Abbinamento ideale con crema di verdura, orata al forno e tranci di salmone al cartoccio.
The Frescobaldi family is the essence of Tuscany: its extraordinary vocation for viticulture has always been a charismatic aspect of the family, which has been producing wine in Tuscany for seven hundred years. The family also counts among its ancestors' illustrious writers, explorers, musicians, bankers, bishops and politicians.
The Pomino wine estate dates to 1500, the year of the construction of the Castle. The story goes that in 1716 the Grand Duke Cosimo III de 'Medici identifies the four most suitable areas of Tuscany for producing quality wines: in the announcement, considered the precursor of modern DOC, the territory of Pomino is listed next to Chianti, to Carmignano and Val d'Arno di Sopra.
Benefizio Pomino Bianco DOC Riserva 2016 is a wine that tells the story of Chardonnay in Tuscany: this variety was introduced into the Estate in 1855 but only in 1973, Benefizio was born: the first white wine in Italy to carry out fermentation in barrique - from 2005 it became Benefizio Riserva. The soils that host this prestigious vine are rich in sand with a strong presence of skeleton and rich in mineral elements. Produced with 100% Chardonnay grapes, Benefizio aging in 50% new French oak barriques and 50% one year old oak for 10 months. The influence of a lively Casentino breeze accompanies the bunches of grapes throughout the summer, in fact when we tasted the berries an incredible liveliness on the palate is perceived, the dominant character of a fresh summer. Pale gold, olfactory notes of Floral, citrus fruits, stone fruits spice and hazelnut. Dry, medium acidity, high alcohol, full body, medium +intensity and finish. Tiny amount of detectable sugar, it is off dry.
Great with vegetable cream, baked sea bream and salmon steaks baked in foil.