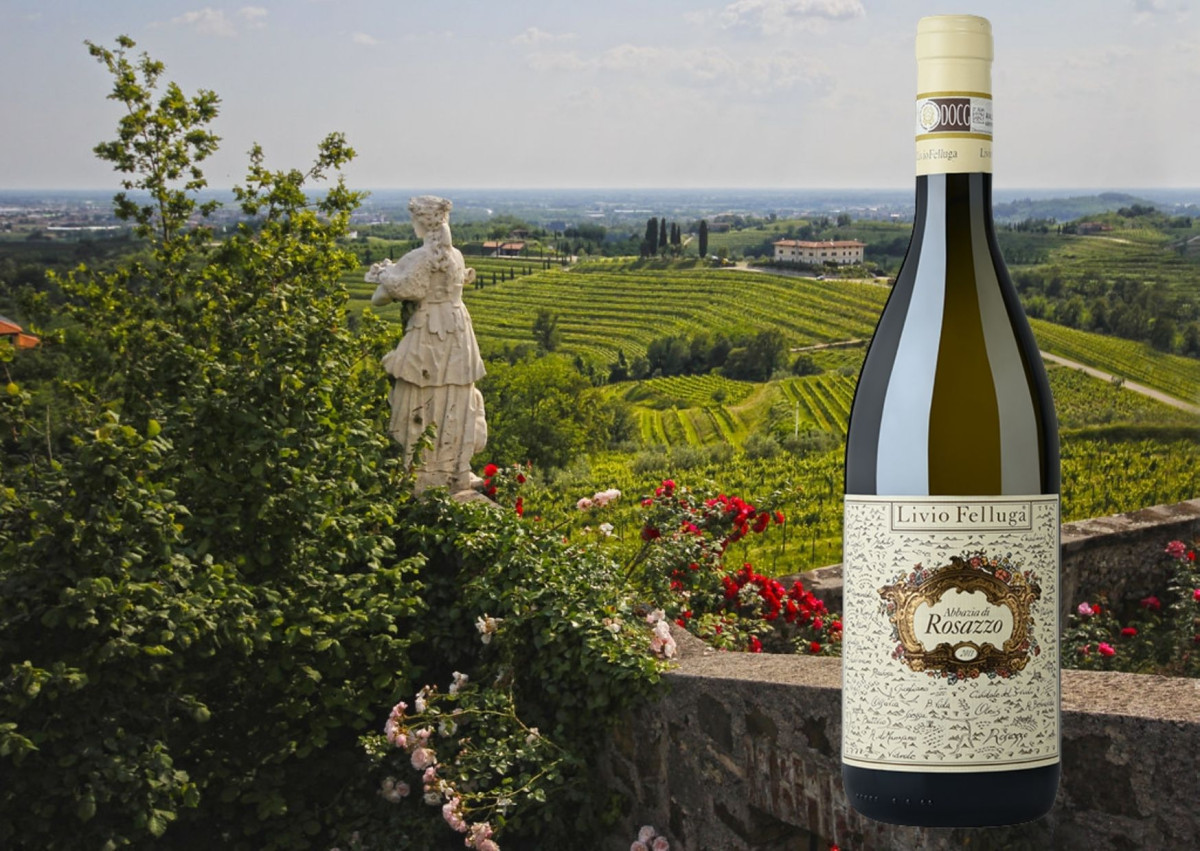 Il 2016 è stata un'annata particolare per questa azienda, promotrice da sempre di eccellenza nel suo territorio e nel mondo: il suo fondatore Livio Felluga si è spento all'età di 102, lasciando in eredità un amore profondo per questa terra, per i vini e per la tradizione.
Intorno all'Abbazia di Rosazzo egli acquistò le prime vigne, in quel luogo riconosciuto sin dai tempi della repubblica Serenissima e dal Doge per la capacità di esprime qualità nelle uve, grazie anche ai suoli, caratterizzati dalla famosa Ponca, composta da marne e arenarie di origine eocenica.
Questa prestigiosa etichetta svela un bianco di grande eleganza, dove in uvaggio sono presenti il Friulano, il Sauvignon Blanc con un saldo di Malvasia e Ribolla Gialla.
Le uve vengono vendemmiate in momenti diversi, iniziano la fermentazione in acciaio per poi proseguire il percorso in botti di rovere, sia per effettuare la fermentazione malolattica che per la maturazione.
Abbazia di Rosazzo 2016 Livio Felluga DOCG si presenta nel calice con un luminoso giallo paglierino intenso con riflessi dorati; il profilo olfattivo regala dapprima note di pesca bianca, bergamotto, biancospino, salvia, menta, delicata speziatura di noce moscata. In bocca è piacevolmente fresco e sapido, di garbata avvolgente e dal finale che allunga e chiude su note ammandorlate.
Un trionfo di sapori abbinato all'aragosta alla catalana.
The vintage 2016 will always be remembered because it was the year that the founder of the estate and promoter of wines worldwide Livio Felluga passed away.
Many years previously he had acquired the wonderful vineyards surrounding The Rosazzo Abbey, renowed during the Serenissima Repubblic as an excellent place for cultivating vines. The soils are characterized by the "Ponca", a mix of eocenic marl and sand.
This beautiful Abbazia di Rosazzo 2016 expresses the personality of the grapes chosen for the blend: Friulano and Sauvignon Blanc above all and a small percentage of Malvasia and Ribolla Gialla.
The grapes are harvested separately and the fermetation begins in stainless steel tanks ; then the must goes into wooden barrells where the MLF takes place and the wine matures.
Abbazia di Rosazzo 2016 Livio Felluga DOCG Medium lemon color with golden reflections: olfactory notes of white peach, hawthorne, citrus fruits, herbaceous, spice and mint. Dry, medium acidity, medium alcohol, medium + body, medium + intensity and finish.

Amazing pairing with Lobster -Catalana style.