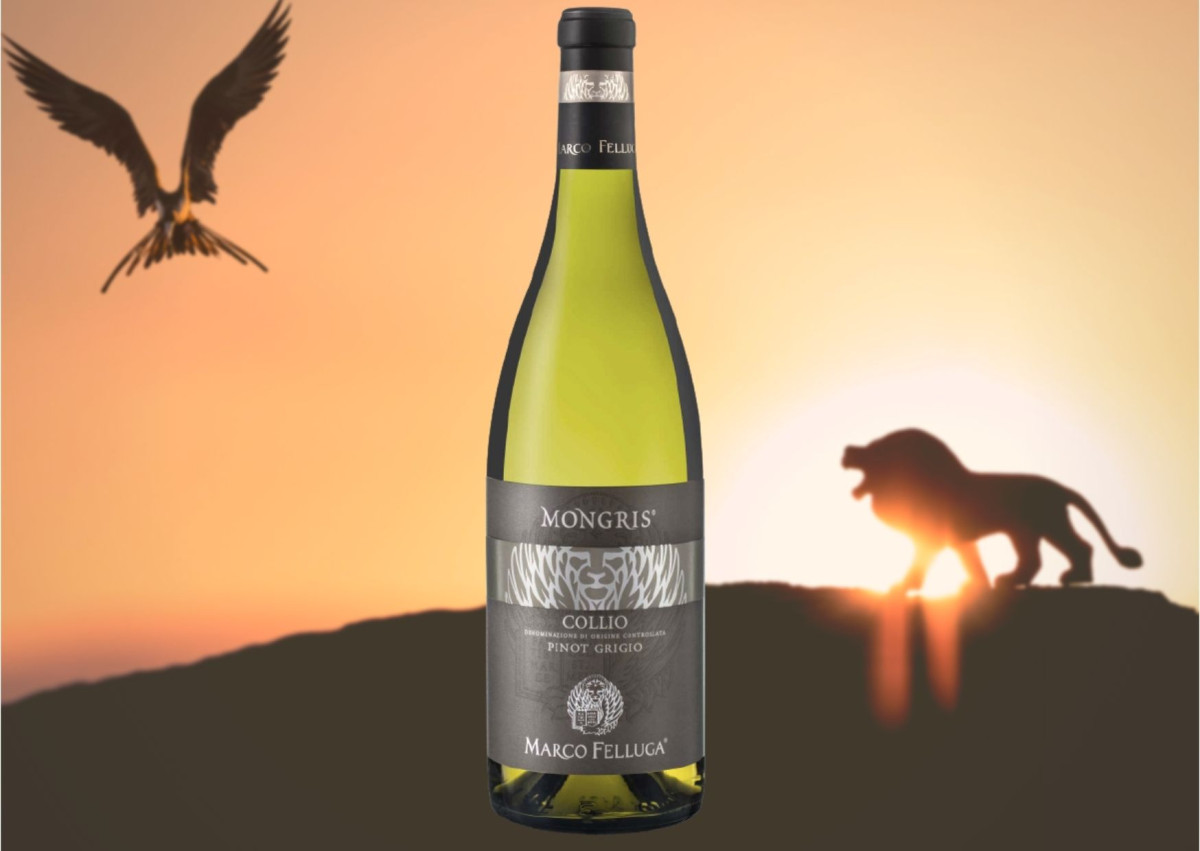 Una storia che inizia con Giovanni Felluga, dopo la Prima Guerra Mondiale, che giunto nel Collio decide di proseguire la vocazione familiare alla viticoltura. Marco, il penultimo dei 7 figli di Giovanni, si forma alla scuola di Enologia di Conegliano e fonda nel 1956 l'omonima azienda a Gradisca di Isonzo. Oggi è' in campo la quinta generazione con il figlio Roberto, alla guida delle due aziende Marco Felluga e Russiz Superiore a Capriva del Friuli. I vigneti sono situati sulle dolci colline che godono di un particolare microclima, beneficiando degli influssi del mare e della protezione delle Prealpi Giulie; inoltre, il suolo è composto dalla stratificazione di marne e arenaria che creano un particolare tipo di Flysch detto localmente 'Ponca'.Il Pinot Grigio è' un vitigno che è presente sin dalla seconda metà dell'Ottocento in questo territorio e sicuramente, una delle varietà più coltivate nella regione.
Mongris deriva dalla contrazione di " monovitigno" e " Gris" per indicare la scelta dell'uva. Dopo la vendemmia, le uve sono diraspate e successivamente subiscono una macerazione a freddo, a cui segue una gentile pressatura. Il 30% del mosto fermenta in rovere e la restante parte in acciaio. Dopo un affinamento di circa due anni sulle fecce fini riposa in bottiglia per qualche mese prima di essere immesso in commercio. Mongris Collio Pinot Grigio 2019 Marco Felluga si presente di un luminoso colore giallo paglierino intenso, al naso offre profumi di agrumi, di pera, di mela bianca, erba, mimosa, miele, burro. Piacevolmente fresco, di buona intensità e persistenza, chiude su note ammandorlate.
Perfetto in abbinamento con gnocchi di patate con prugne alla triestina.
Giovanni Felluga moved to Collio after the First World War, promoting the viticolture and exploring the potential of some varieties in this territory suited to the Wine. Marco, the penultimate of his seven children, founded the company which has his name in 1956: he studied as Oenologist at the prestigious school of Conegliano Veneto. Today it's up to his Son Robert to run the family business, promoting the eccellence and the high quality of the wines produced by the two Wineries: Marco Felluga in Gradisca d'Isonzo and Russiz Superiore in Capriva del Friuli. The Vineyards are located on the hills that have a very particular soils, composed of marl and sand and called 'Ponca'(a kind of flyesch). The climate is influenced by the Adriatic Sea and the Prealpi Giulie. Pinot Grigio is One of the most coltivated variety of Friuli.
Collio Doc Mongris derives its name from Mon, shortened form of " monovitigno " (aka only one grape) and Gris which stands for Pinot Grigio.The destemmed grapes go for a cold maceration before the gentle pressure. 30% of the must ferments in oak barrels, the remaining part in stainless steel tank. The Wine matures on the fine lees for two years and few months in bottle before releasing. Mongris Collio Pinot Grigio 2019 Marco Felluga is clear, medium lemon color, medium+ intensity, Olfactory Notes of lemon Peel, pear, Apple , peach, grass, honey, butterscotch, cream. Dry, medium+ acidity, medium alcohol, medium body, medium + intensity and finish.

Very nice pairing with gnocchi with plum, a typical dish from Trieste.