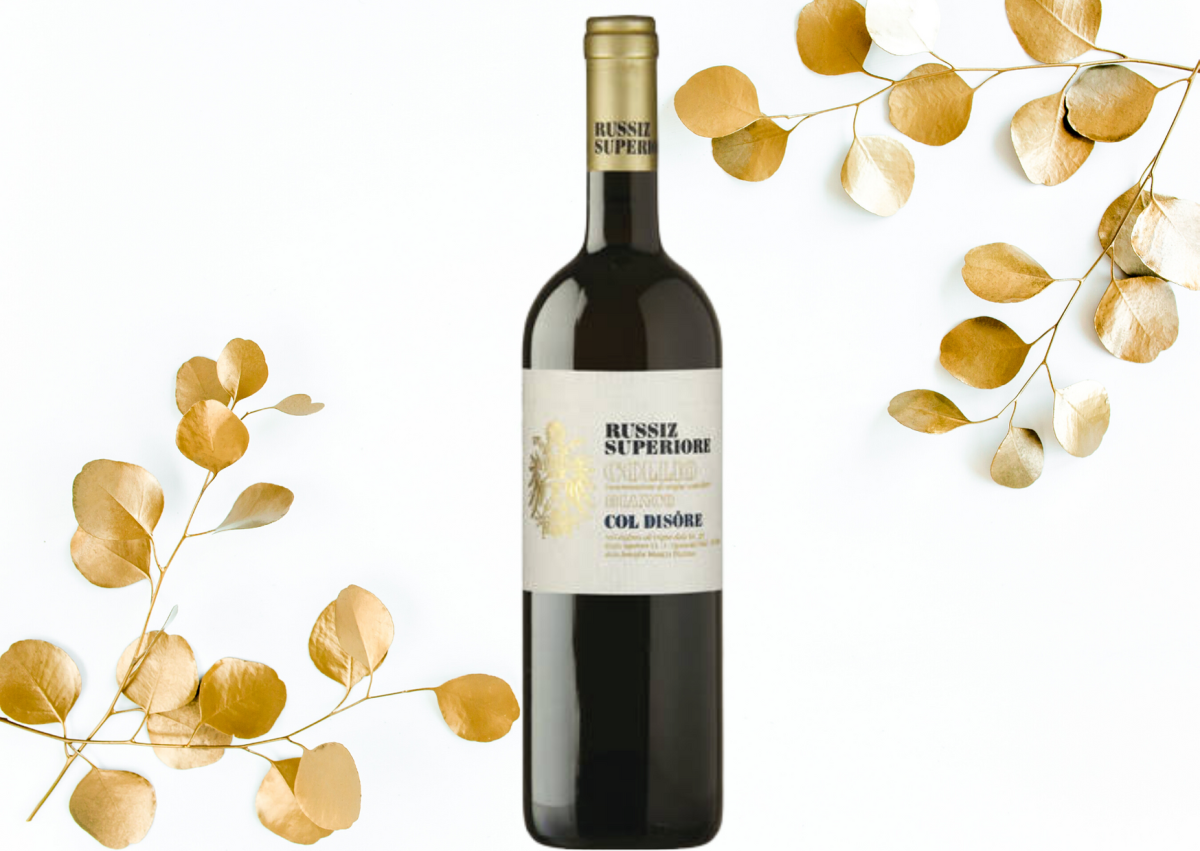 Una tradizione portata avanti da Roberto Felluga, che rappresenta la quinta generazione e che gestisce le due aziende familiari - Marco Felluga e Russiz Superiore. Siamo in un territorio particolare, caratterizzato da stratificazioni di arenaria e marne – ponca in friulano- con importanti escursioni termiche e brezze marine che giungono dal mare Adriatico. L' azienda vinicola Russiz Superiore ha sede a Capriva del Friuli: le uve che vengono coltivate raccontano attraverso i vini la meraviglia di questi paesaggi e la solidarietà tra uomini, divisi purtroppo da confini tracciati su una carta, ma con le stesse tradizioni, lingua e cultura. Questo Collio Bianco è un blend di Friulano, Pinot Bianco, Sauvignon e Ribolla Gialla: parte delle uve sono raccolte in surmaturazione e subiscono una macerazione a freddo e poi la pressatura soffice. La fermentazione avviene in botti di rovere, seguita da dodici mesi sui lieviti e da un ulteriore anno in bottiglia. Col Disôre è il riferimento topografico in dialetto friulano (collina di sopra) in cui venne diviso il territorio di Russiz nel 1648. Giallo paglierino intenso con bagliori dorati, naso di fine complessità che apre su note di frutta a polpa gialla, cedro, sambuco, cenni vegetali, miele e gentile sentore di vaniglia e nocciola. In bocca è avvolgente e sapido, chiudendo il finale decisamente persistente con una nota ammandorlata.
Si abbina in modo affascinante ad un piatto di ravioli con l'astice.
Let's go to the beautiful Friuli region, precisely in the small village of Capriva del Friuli, at Russiz Superiore winery. Felluga family has an important winemaking tradition: today Roberto Felluga, belonging to the fifth generation, takes care of both of the family estates, Marco Felluga and Russiz Superiore. The vineyards are characterized by a particular marly sandstone soil called by the locals "ponca" . Col Disôre refers to the Russiz hill which was divided in two part in 1648 and disôre, in dialect, stands for the higher position on the hill of the oldest medieval center. This Collio Bianco is a blend of Friulano, Pinot Bianco, Ribolla Gialla and Sauvignon: a part of the grapes is harvested overriped. First, cold maceration followed by a gentle pressing. Fermentation takes place in wooden oak casks,then the wine ages 12 months on the lees, afterwards one more year in the bottle. A beautiful lemon colour; apricot, cedar, peach, elderflower, honey, butter, vanilla and hints of hazelnut at the nose. Medium acidity, medium body and alcohol, very long finish with almond flavours.
A very pleasant sip: perfect with ravioli (homemade stuffed pasta) with lobster.