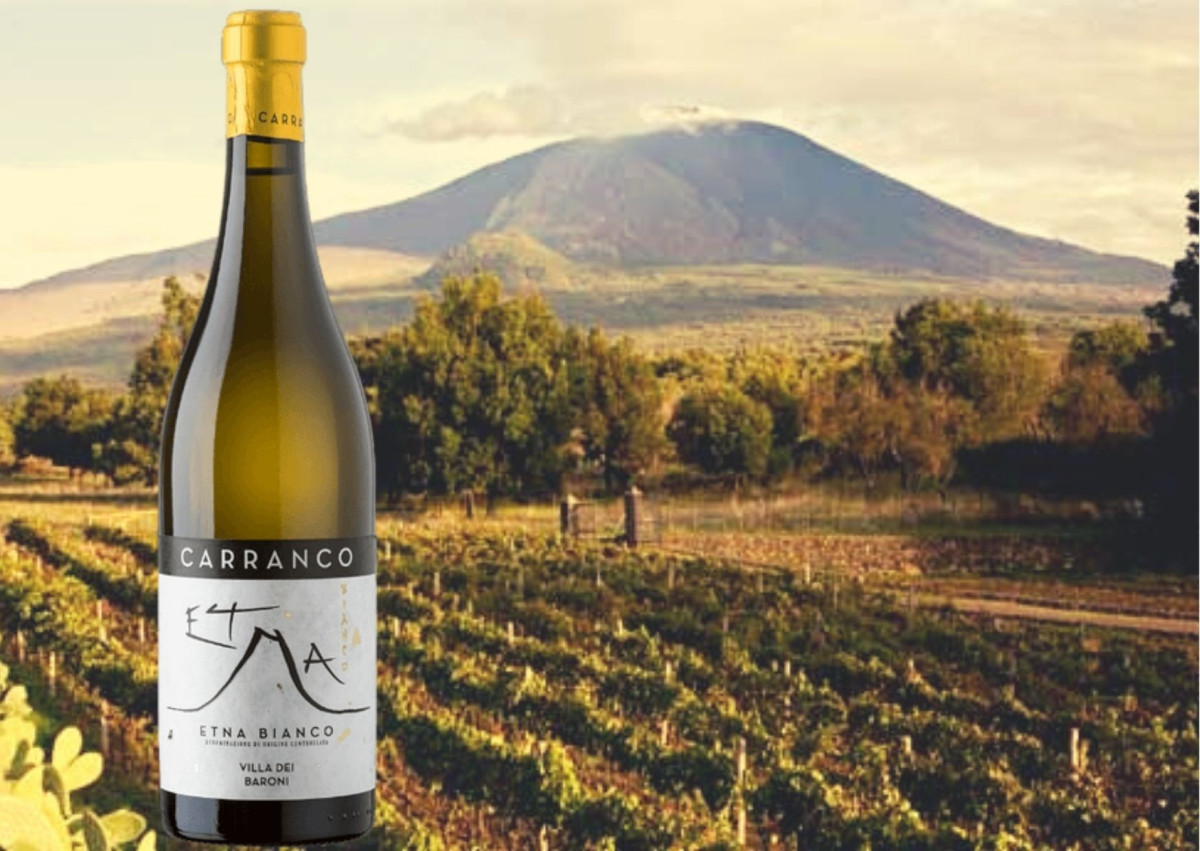 Sulle pendici del vulcano Etna, a circa 500 mt slm sorge l'azienda Carranco nella omonima contrada ubicata nel comune di Castiglione di Sicilia, nata dalla collaborazione di Tornatore e dei piemontesi Giacomo Borgogno e figli.
La Villa ,circondata dai vigneti che vengono lavorati nel rispetto delle tradizioni , ospita nei sotterranei un antico Palmento risalente al Settecento, il luogo dove veniva pigiata l'uva e fatto il vino.
Questo Etna Bianco è ottenuto dalla vinificazione in acciaio di uve Carricante: questo vitigno è autoctono della zona Etnea, rinomato per la grande produttività e la longevità dei vini, legata alla presenza di una alta acidità naturale.
Sembra che sia stato importato dai coloni greci intorno all'VIII sec a.C. E che abbia trovato nei suoli ricchi di basalto e porfido la possibilità di esprimere la caratteristica mineralità.
Il colore è giallo paglierino, molto luminoso. Al naso si esprimono note fragranti di acacia, miele, agrumi e sentori di idrocarburo. In bocca spicca per la vibrante acidità, dimostrando una buona intensità e persistenza e una chiusura ammandorlata.
Da servire in calici con una stelo alto, di media ampiezza alla temperatura di 8-10 gradi in abbinamento con un delizioso arancino al pistacchio.
.
.

A New winery is born on the slopes of the Etna Volcano, Thanks to the cooperation between Tornatore, a local winegrower and the Piedmontese Borgogno family.
The Beautiful villa in Contrada Carranco is surrounded by the Vineyards, coltivated according with the traditional practices and it has under the floor an old Palmento, the place where the vinification procedures took place in the past.
On Etna the climate is colder and rainier than in the other territories of Sicily and due to the lava stones and volcanic hashes the philloxera isn't common here: the oldest vines are mainly ungrafted.
Carricante is a white variety probably introduced by the Greek in VIII century B.C. : it is characterized by high level of acidity and the crop is abundant.
The Wine is clear, pale lemon color, medium + intensity, Olfactory Notes of Floral ( acacia, blossom), citrus fruit ( lemon Peel) wet stone, honey , kerosene.
Dry, high acidity, medium alcohol, medium body, medium intensity and finish. It has some ageing potential.
To be served in medium sized glasses at the temperature of 8-10 degree. Taste it with a delicious "Arancino" with Pistaches.