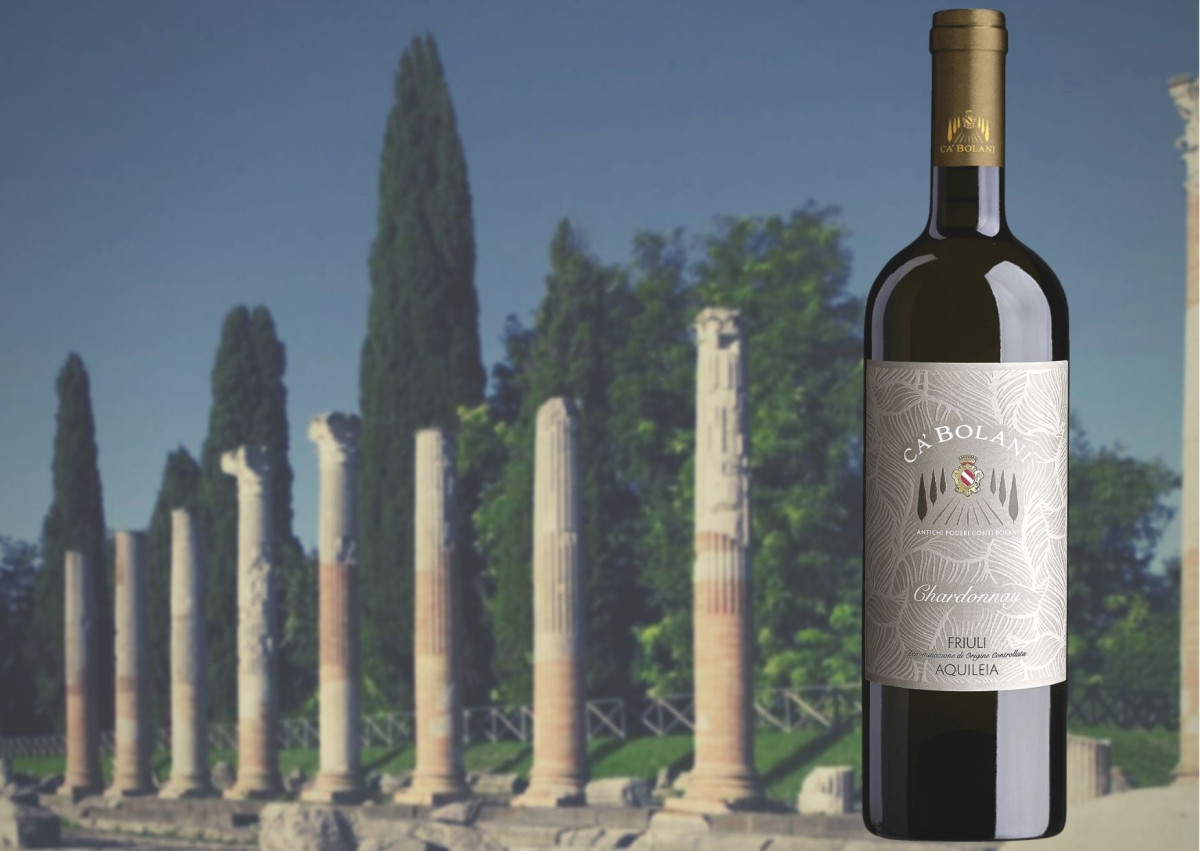 Ca' Bolani sorge nel cuore della Doc Aquileia e rappresenta la più importante estensione a vigna del Nord Italia con una superficie totale di circa 550 ettari vitati. L'azienda è cresciuta nel riconoscimento internazionale grazie all'eleganza ed alla raffinatezza dei suoi vini, alla ricerca costante dell'eccellenza qualitativa, sia in vigna che in cantina.
La personalità dei vini di Ca' Bolani deriva dal particolare microclima, dal terreno argilloso di medio impasto, caratterizzato da drenanti fasce ciottolose, percorse da acque cristalline di sorgente che, grazie alla ricchezza di minerali, rendono fertile il suolo per tutto il ciclo stagionale. Questo tipo di suolo favorisce pertanto la mineralità dei vini mentre la fragranza e finezza sono determinate dalle importanti escursioni termiche tra giorno e notte, dovute alla forte insolazione diurna e alle fresche brezze marine che la sera spirano dal vicino Adriatico. Entrare a Ca' Bolani è come attraversare un magnifico e vasto parco di vigne costituito da un affascinante mosaico di oltre 10 varietà di vitigni sia autoctoni che internazionali.
Chardonnay Friuli DOC 2018 Antichi poderi Ca' Bolani è un vino di un colore giallo paglierino luminoso con riflessi verdognoli. Sprigiona morbide note di banana, elegante e fine, si contraddistingue per le note fruttate di mela renetta e pera Kaiser e per le velature di salvia e rosmarino. Il sapore è deciso in bocca, avvolgente con una buona freschezza. Bilanciato con lunga persistenza fruttata finale.
Perfetto con un piatto di molluschi e crostacei!
Cà Bolani is the heart of Aquileia DOC and represents the largest single extension of vineyards in Northern Italy, with a total area of around 550 hectares under vine. Today Ca' Bolani has become increasingly well-known around the world thanks to the elegance and refinement of it wines, its constant quest for outstanding quality. In the area around Aquileia the equilibrium of the microclimate is perfect: the temperate breezes from the nearby Adriatic sea moderate the heat of summer, the warmth of the sunshine allows for excellent ripening of the fruit and the marked lowering of the temperature during the night enhances the grapes' primary aromas, thus giving the wines an intense personality. The area in which Ca' Bolani is located forms part of a zone that is particularly suitable for the production of high-quality wines: it lies in the so-called "Alpha" climate zone, where the thermal summations that occur correspond to those of other famous European wine-growing areas.
Entering Ca' Bolani is like driving through a vast and magnificent park of vines made up of a fascinating mosaic of some 10 grape varieties, both indigenous and international.
Chardonnay Friuli DOC 2018 Antichi poderi Ca' Bolani is a wine with luminous straw yellow colour with greenish flecks.Bouquet: elegant and fine, fruity and floral, the bouquet is reminiscent of rennet apple, Bosc pear, sage, thyme and rosemary. The flavour is assertive in the mouth, enveloping with good freshness. Balanced with lingering fruity finish. Medium intensity, dry medium acidity, medium alcohol, medium intensity and medium finish.
Perfect with clams and shellfish!