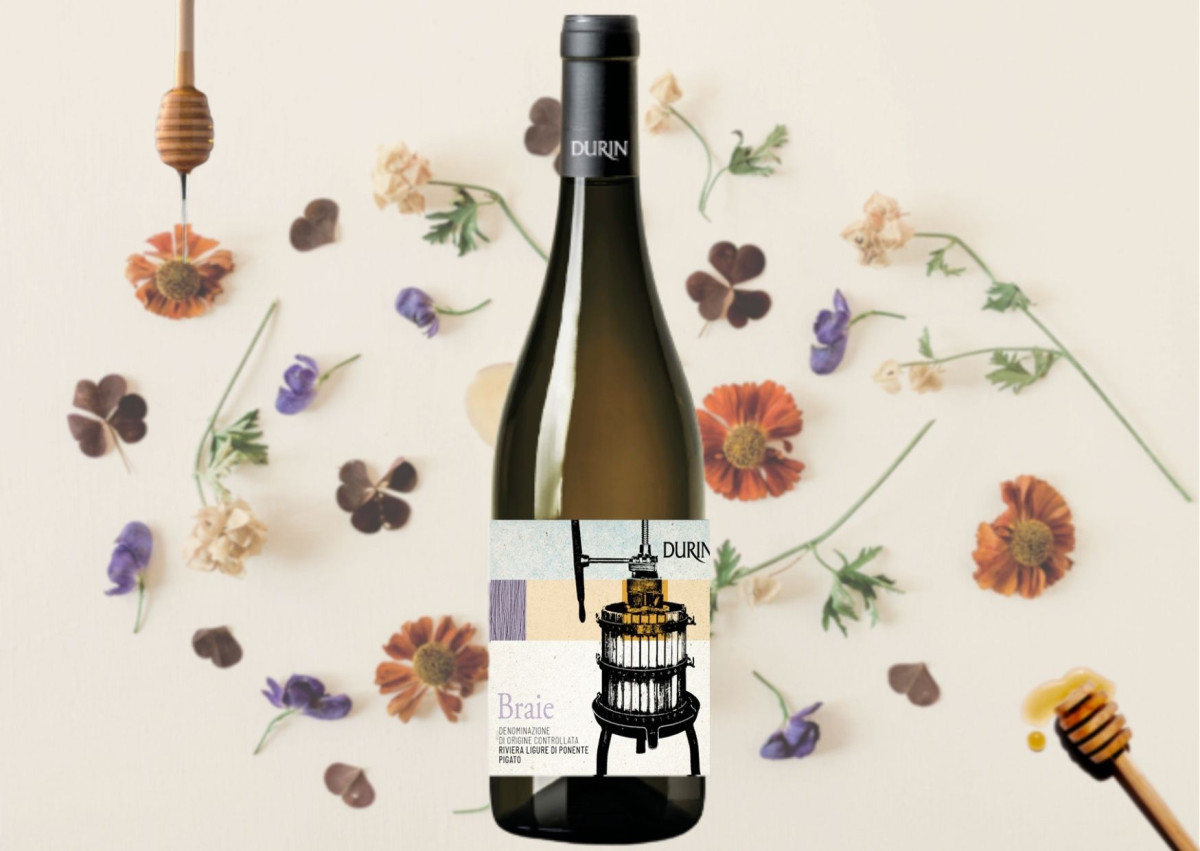 I vigneti di Durin sono l'emblema della viticoltura ligure caratterizzata da fazzoletti di terra che in un unico sguardo abbracciano panorami diversi, offrendo vedute con pochi eguali. Ci troviamo in Valle Arroscia, nel savonese, dove i vigneti di Durin sono ripartiti in 6 diversi comuni e ricoprono un'area di 18 ettari, un numero importante per gli standard regionali.
Gli appezzamenti aziendali ad oggi sono 259 e le pendenze variano molto da un vigneto all'altro, passando da 70 a 600 metri sul livello del mare. Il clima mite facilita la maturazione delle uve dei vitigni Pigato, Vermentino, Rossese, Ormeasco, Alicante, Granaccia, Syrah e Lumassina, complice anche la brezza marina che dalla costa raggiunge la valle ricoprendo di un leggero strato bianco foglie stellate e grappoli succosi. La salsedine si ritroverà poi, come ogni altra condizione ambientale, nel bicchiere, dopo i doverosi e sperimentali passaggi in cantina, da cui usciranno vini dalla sapidità tutta ligure.
Braie DOC Riviera Ligure di Ponente Pigato 2019 è un vino che lega fortemente la famiglia Durin ai ricordi d'infanzia, quando questo vigneto si arava ancora con il bue. Le viti portano i segni del tempo trascorso e la produzione è decisamente scarsa, la fermentazione avviene sulle bucce con lieviti indigeni per 48 ore a temperatura controllata. Il prodotto finale regala sensazioni assolutamente uniche. Il vino non è filtrato. Il vino Colore giallo paglierino con riflessi dorati. Odore ampio, intensamente aromatico da cui emergono in sottofondo profumi di frutta esotica a polpa bianca matura e sensazioni di miele e di resina. Al gusto si denota un'acidità verticale con chiusura sapida su note iodate. In abbinamento con crostacei e frutti di mare, antipasti bianchi, torta pasqualina, ravioli di magro e cima alla genovese.
Durin's vineyards are the symbol of Ligurian viticulture whose peculiar traits are patches of land that embrace different landscapes at the same time providing unparalleled breath-taking views.
A less appreciated downside, for those growing vines, are the steep hill ranges which are very common even here in the Arroscia Valley in the province of Savona where, seated in 5 different municipalities lay Durin's vineyards, covering a 16 and a half hectares area.
The farm owns 259 plots of land at the present day and the slopes differ from one wine-growing area to the other, ranging from 70 up to 600 m.a.s.l.. The ripening of Pigato, Vermentino, Rossese, Ormeasco, Barbera, Alicante, Granaccia, Syrah and Lumassina is made easier by the mild weather as well as by the sea breeze which covers juicy grapes bunches and star-shaped leaves with a light white layer. The wine saltiness, along with any other environmental condition will be found in the glass, after going through necessary and experimental processes in the cellar, which produces and releases wines with a peculiar Ligurian flavour.
Braie DOC Riviera Ligure di Ponente Pigato 2019 is a wine that link strongly binds winery to the history of Ligurian winegrowers; this vine is grown in an area where weather conditions are perfect making it ideal for this type of cultivation. The fermentation process occurs within the grapes skin and indigenous yeasts for 48 hours and by keeping temperature under control. Unfiltered wine.. Straw-yellow colour with golden reflections. Intense fruity smell with distinct hints of yellow peach from which white ripen exotic fruits scents stand out blended with honey and natural resin. Dry yet soft to the taste, warm, full-bodied with smooth and extended aromatic hints. Perfect with shellfish, sea food, starters in white sauces, the Genoese torta pasqualina and ravioli filled with wild herbs.