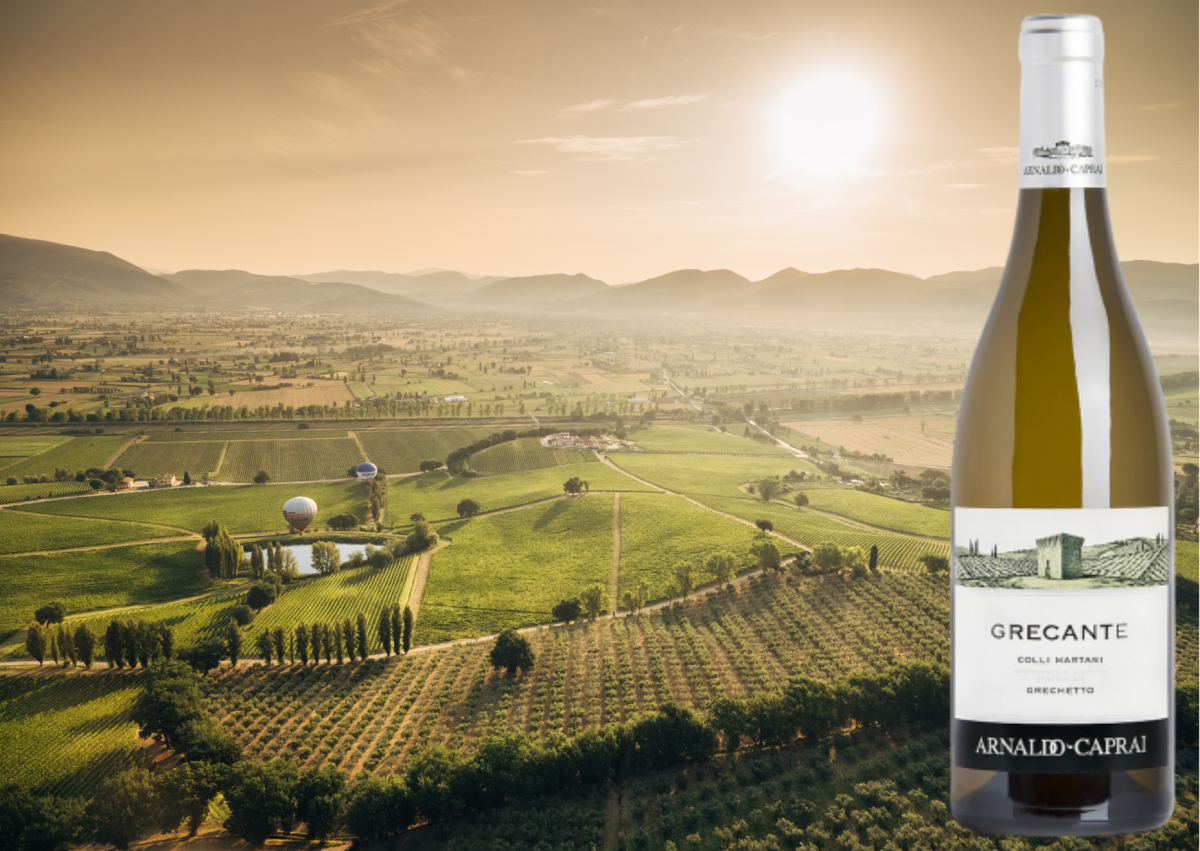 Il Grechetto è un'uva a bacca bianca che si è ambientata bene in Umbria, dove è coltivata da molto tempo: pare che Papa Paolo Farnese nel 1544 avesse ricevuto una fornitura in dono dal Podesta' di Montefalco.   
Fiero paladino difensore di un territorio di rara bellezza, Arnaldo Caprai insieme a suo figlio Marco si sono impegnati nel provare a vinificare questa varietà secondo la tradizione. Famosa soprattutto per aver sostenuto una vinificazione secca del Sagrantino, che ha visto riconosciuta la DOCG nel 1992, è Un'azienda che ha aderito al progetto New green revolution, in difesa dell'ambiente e promotore di una viticoltura sostenibile.
Grecante Colli Martani DOC 2018 (Grechetto 100%) terminata la fermentazione, affina 3 mesi in acciaio e almeno altri 3 in bottiglia. Nel calice si presenta con un luminoso giallo paglierino, offrendo un profilo olfattivo interessante con note floreali (mughetto e biancospino), fruttate (pesca e melone cantalupo), gesso. In bocca è dinamico, ma conquista per la freschezza gustativa ed il finale lungo, coerente con chiusura su note ammandorlate e agrumate.
Sarà perfetto con tagliolini al l'uovo con ragù bianco di pesce persico.



Grechetto is a white grape coltivated in Umbria since ancient times: in 1544 The Pope Paolo Farnese receveid as a present some bottles of that Wine from the Podesta' of Montefalco. Strong defensors of the traditional viticolture, Arnaldo Caprai and his Son Marco started to preserve the particular charactersitics of the grape in their wines. This winery is best  known for the dry version Of Sagrantino: in 1992 the New DOCG was established to underline the quality of that style of wines.
The winery follows the New Green Revolution program, to respect the territory and its biodiversity.
Grecante Colli Martani DOC 2018 (is 100% Grechetto), after fermentation it ages three months in stainless steel tank then about three months or more in bottles.
Bright pale lemon, at the nose Floral hints such as lily of the valley and hawthorn, stone fruit like peach; it also  develops  Notes of cantaloupe melon and chalk.
It is dry, medium+ acidity, medium alcohol and body, medium + intensity and finish.
It could be enjoyable with a Homemade Tagliolini ( pasta) with perch white ragout.