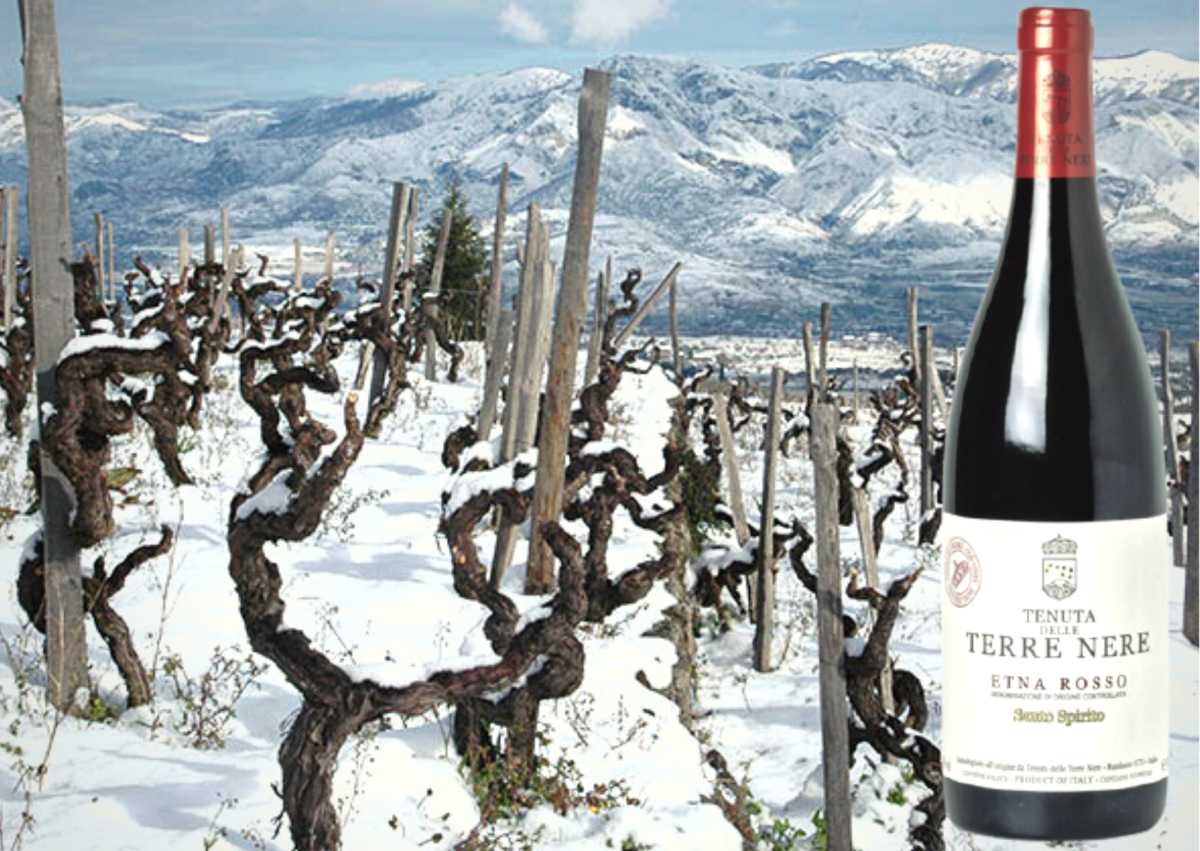 Ci troviamo in Sicilia, alle pendici nord dell'Etna, la zona storicamente di elezione per i grandi vini rossi. Tenuta Delle Terre Nere è composta da oltre 55 ettari frammentati in 24 appezzamenti in sei contrade; la gran parte delle viti ha superato i 130-140 anni di vita, sopravvivendo alla fillossera, e essendo dunque, franche di piede. I terreni degli appezzamenti sono di natura diversa e lo stesso è vero delle loro altitudini, che variano dai 600 ai 1,000 metri s.l.m. I terreni sono di sabbia vulcanica mista a pietrisco basaltico e una piccola presenza di cenere.
L'Etna appartiene alla Sicilia come l'eccezione appartiene ad una regola, o come un'isola appartiene al mare. Il clima delle pendici Etnee è semplicemente unico nel panorama siciliano. Le vigne sono caratterizzate da escursioni termiche tra giorno e notte che d'estate registrano fino a 30 gradi. Con differenze microclimatiche estreme, questo regala ai vini una complessità aromatica unica nel suo genere.
Santo Spirito Etna Rosso DOC 2019 Tenuta Delle Terre Nere è un vino che nasce in un luogo di straordinaria bellezza, con terrazze larghe e serene che scorrono dolcemente a valle. Terreni profondi e ricchi che ostentano un'erba sontuosa, vigne vigorose che espongono la loro nutrita abbondanza. Santo Spirito è un vino sensuale e succulente, dal bouquet quasi carnoso e dal palato ricco e avvolgente, raffinato e equilibrato.
We are located in Sicily, on the northern slopes of Etna, historically the best area to made the great red wines of Sicily. Tenuta delle Terre Nere is made up of over 55 hectares divided into 24 plots in six district; most of the vines have exceeded 130-140 years of life, surviving the phylloxera. The plots of land are located from 600 to 1000 meters above sea level. The soils of volcanic sand mixed basaltic rubble and small presence of ash.
Etna belongs to Sicily as the exception belongs to a rule, or as an island belongs to the sea. The climate of the Etna slopes is simply unique in the Sicilian landscape. The vines are characterized by temperature variations between day and night which in summer record up to 30 degrees. With extreme microclimatic differences, this gives the wines a unique aromatic complexity.
Santo Spirito Etna Rosso DOC 2019 Tenute Delle Terre Nere is a wine that is born in a place of extraordinary beauty, with wide and terraces that flow gently downstream. Deep and rich soils that flaunt sumptuous grass, vigorous vines that display their nourished abundance. Santo Spirito is a sensual and succulent wine, with an almost fleshy bouquet and a rich and enveloping, refined and balanced palate.