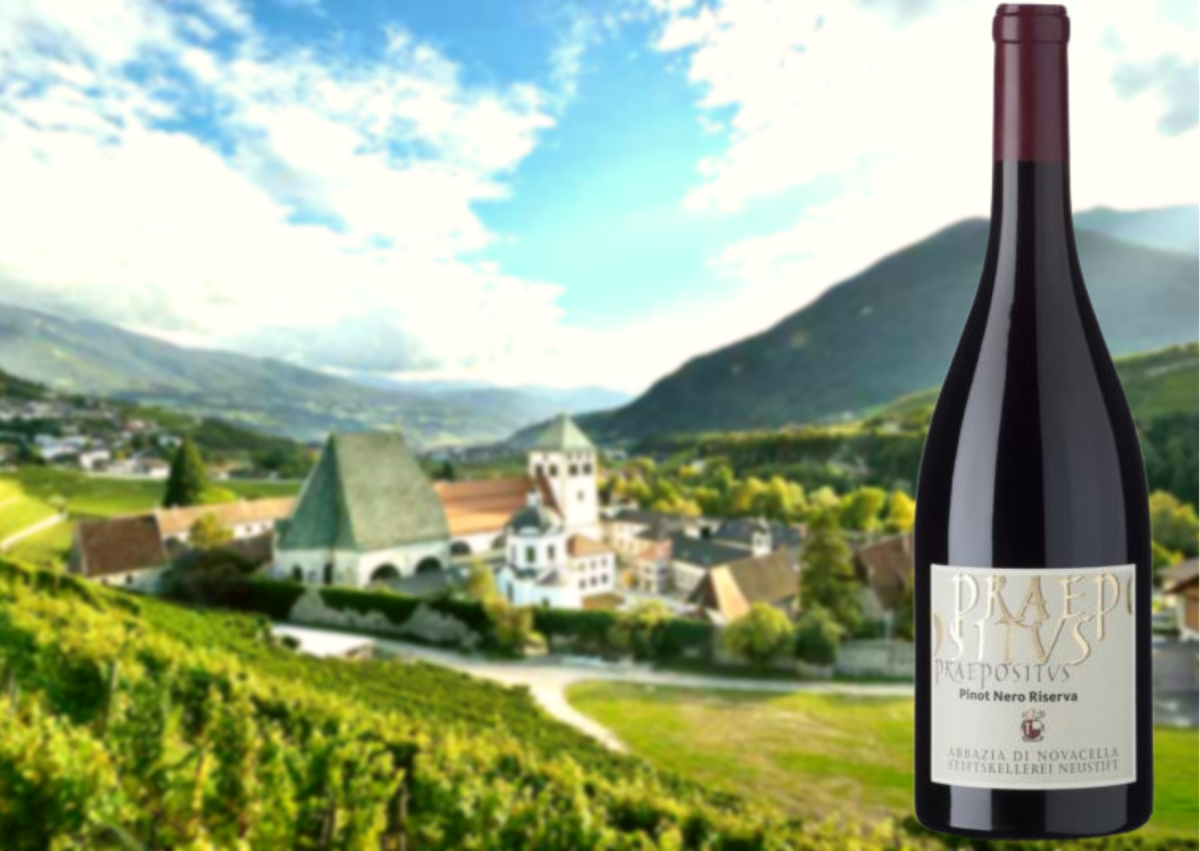 La cantina dell'Abbazia di Novacella è annoverata tra le più antiche attive del mondo. Già nel 1177 da papa Alessandro III fu riconosciuto al monastero il possesso dei vigneti nelle vicinanze. Attraverso donazioni, fondazioni, acquisti e scambi, l'Abbazia accumulò considerevoli possedimenti di vigneti, da cui è circondata fino ai nostri giorni. All'inizio dell'Ottocento, con la secolarizzazione, il monastero perse una parte dei vigneti, da allora fino ad oggi, tuttavia, i contadini usano consegnare la maggior parte delle uve all'Abbazia, dove vengono lavorate per ottenere vini eccellenti.
Reperti archeologici testimoniano che sui pendii protetti della Valle d'Isarco da più di 2500 anni si coltiva la vite. Ancora oggi, dai molti muri a secco costruiti per attenuare la pendenza del terreno, si può intuire l'immane fatica impiegata per impiantare i vigneti. Grazie all'accortezza dei suoi abati e canonici e al buon funzionamento dell'azienda, l'Abbazia di Novacella è riuscita, fino a d'oggi, a far fronte ai suoi compiti originari. Oltre alla parte scolastica, anche la formazione ed il perfezionamento personale e professionale hanno grande valore a Novacella.
Praepositus Pinot Nero Riserva 2018 nasce a Cornaiano (Appiano) è un vino rosso rubino con sfumature rosate. Al naso amarena, e note di ribes nero. Odori del sottobosco e quelli di cannella e chiodi di garofano. Elegante e seducente, dalla vivida acidità e dalla struttura vellutata. La fermentazione è svolta in inox con macerazione sulle bucce per 15 giorni mentre la fermentazione malolattica avviene in Barrique e Tonneaux francesi per 24 mesi (1/3 nuove).
Perfetto con salmone grigliato con ragù di carciofi e pomodori.
The Novacella Abbey cellar is one of the oldest active in the world. As early as 1177 by Pope Alexander III, the monastery was granted possession of the nearby vineyards. Through donations, foundations, purchases and exchanges, the Abbey accumulated considerable possessions of vineyards, from which it is surrounded to this day. At the beginning of the nineteenth century, with the secularization, the monastery lost part of the vineyards, from then until today, however, the farmers have to deliver most of the grapes to the Abbey, where they are processed to obtain excellent wines.
Archaeological finds testify that vines have been cultivated on the protected slopes of the Isarco Valley for more than 2500 years. Even today, from the many dry stone walls built to soften the slope of the land, one can guess the immense effort to plant the vineyards. Thanks to the foresight of its abbots and canons and the good functioning of the company, the Abbey of Novacella is, up to now, to cope with its original tasks. In addition to the school part, training and personal and professional improvement are also of great value in Novacella.
Praepositus Pinot Nero Riserva 2018 born in Cornaiano (Appiano) is a ruby ​​red wine with rosy nuances. On the nose black cherry, and notes of black currant. Smells of the undergrowth and those of cinnamon and cloves. Elegant and seductive, with a vivid acidity and a velvety structure. The fermentation is carried out in stainless steel with maceration on the skins for 15 days while the malolactic fermentation takes place in French Barriques and Tonneaux for 24 months (1/3 new).
Perfect with grilled salmon with artichoke and tomato sauce.