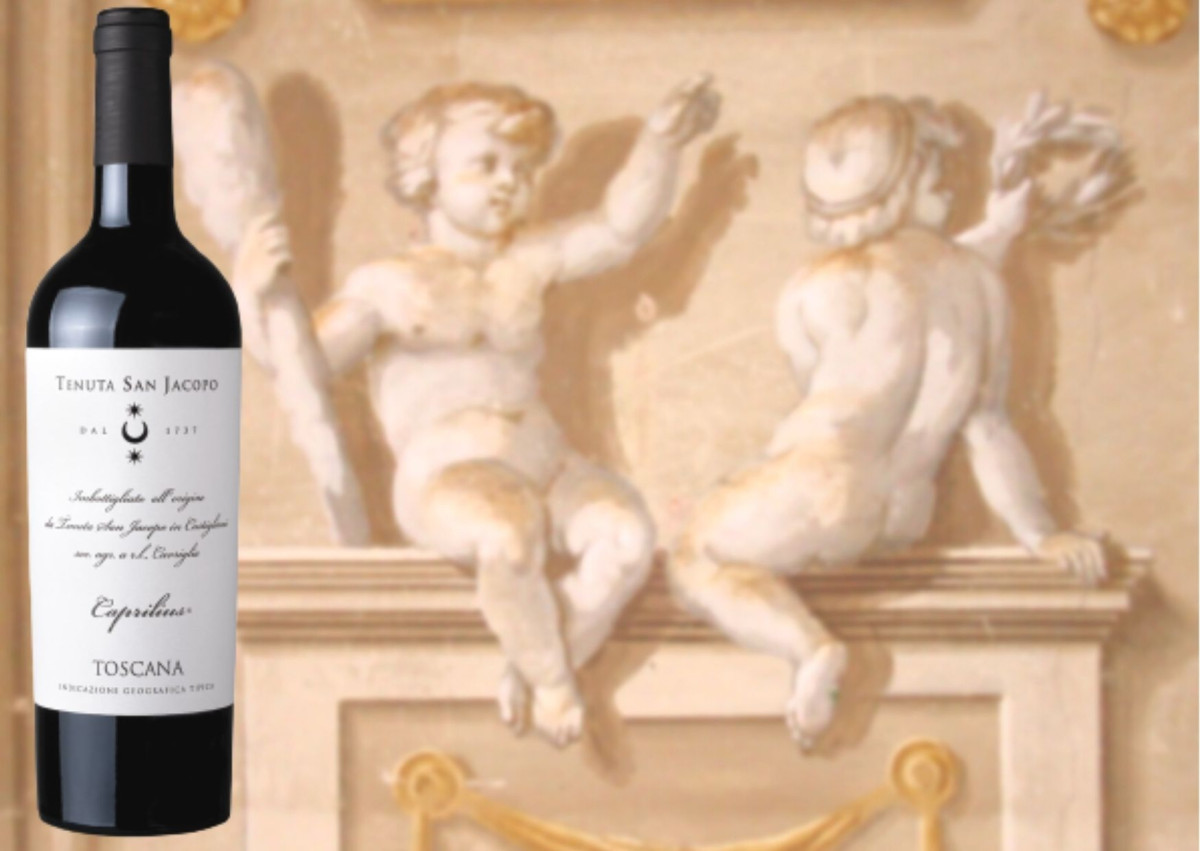 La storia di Tenuta San Jacopo risale agli inizi del '700: una villa settecentesca, suggestive case coloniche, una cantina, su una collina incantevole, preziosamente cesellata dai viali di cipressi, pini e querce. A cavallo tra il Chianti classico e il Valdarno 130 ettari di vigneti, oliveti e boschi riacquistano il loro antico prestigio grazie alla visione e al lavoro della famiglia Cattaneo.
Sull'area pertinenziale, defilata alla vista da un filare di cipressi, vi è una caratteristica cappella con abside, realizzata in pietra a facciavista, denominata San Jacopo a Castiglioni (ne viene fatta menzione in mappe risalenti al XVI sec.).Tutti i vigneti dell'azienda sono coltivati seguendo i principi di un'agricoltura biologica. Un rispetto scrupoloso di ciò che la natura produce che si completa con un percorso di vinificazione mirato a valorizzare, senza snaturarlo, il frutto della vigna.
Caprilius è l'antico nome di Cavriglia, antico paese di origini romane un tempo popolato da pastori e capre. A questo luogo è stato dedicato il nome di questo vino prodotto da 100% Montepulciano, vitigno che proprio a Cavriglia nel Valdarno Superiore ha trovato un territorio che per le sue peculiarità permette di ottenere un vino unico nel suo genere. I vigneti che danno vita al Caprilius fanno parte della tenuta, in particolare della parte di terreni che si estendono a ovest della Villa Seicentesca. I Vigneti da cui nasce il Caprilius occupano un ettaro e, con la loro esposizione a sud/est sono posizionati a un'altitudine di 300 metri sul livello del mare. La tecnica di coltura, a cordone speronato, e la varietà delle uve (Moltepulciano 100%) coltivate fanno sì che Caprilius si presenti come un vino dal colore rosso rubino compatto, da profumo speziato, fruttato e balsamico e dal gusto tannico.
Staying in a real historic residence in Chianti, in a farm, surrounded by the charming tuscan countryside. An oasis of refined calm, a place that enhances its long peasant tradition.
Contemporary, but authentic.
The estate is split in two parts divided by the Chiantigiana road, which connects Valdarno to Chianti Classico. By one side there's the 18th century Villa, impressive and majestic, marked by the long tree-lined boulevard. On the other side there's the farm with its own residences, surrounded by the hills and vineyards.
The passion of the Cattaneo family for quality products is dedicated to the estate and its recovery, the strength with which it went towards organic cultivation, can be now found in wines and products.
These products tell the history of Tenuta San Jacopo and a unique land. On the appurtenant area, secluded by a row of cypress trees, there's a characteristic chapel with an apse, made by exposed stones, named San Jacopo A Castiglioni (it is mentioned in XVI century maps).
Caprilius is the ancient name of Cavriglia, village of Roman origins once populated by shepherds and goats. To this place is dedicated this wine, made from 100% Montepulciano, vine that in Valdarno has found a territory able to give life to a unique wine. The grapevines that give life to Caprilius are part of the estate, more precisely to the part of land that extends to the west of the seventeenth-century Villa.
The vineyards from which Caprilius is born, occupy one hectare, and, with their south/east exposure, are positioned at an altitude of 300 meters above the level of the sea. The technique of cultivation -spurred cordon- and the variety of grapes cultivated (100% Montepulciano), allow Caprilius to stand as a wine with a compact ruby red color, with a spicy, fruity and balsamic aroma and a tannic taste.