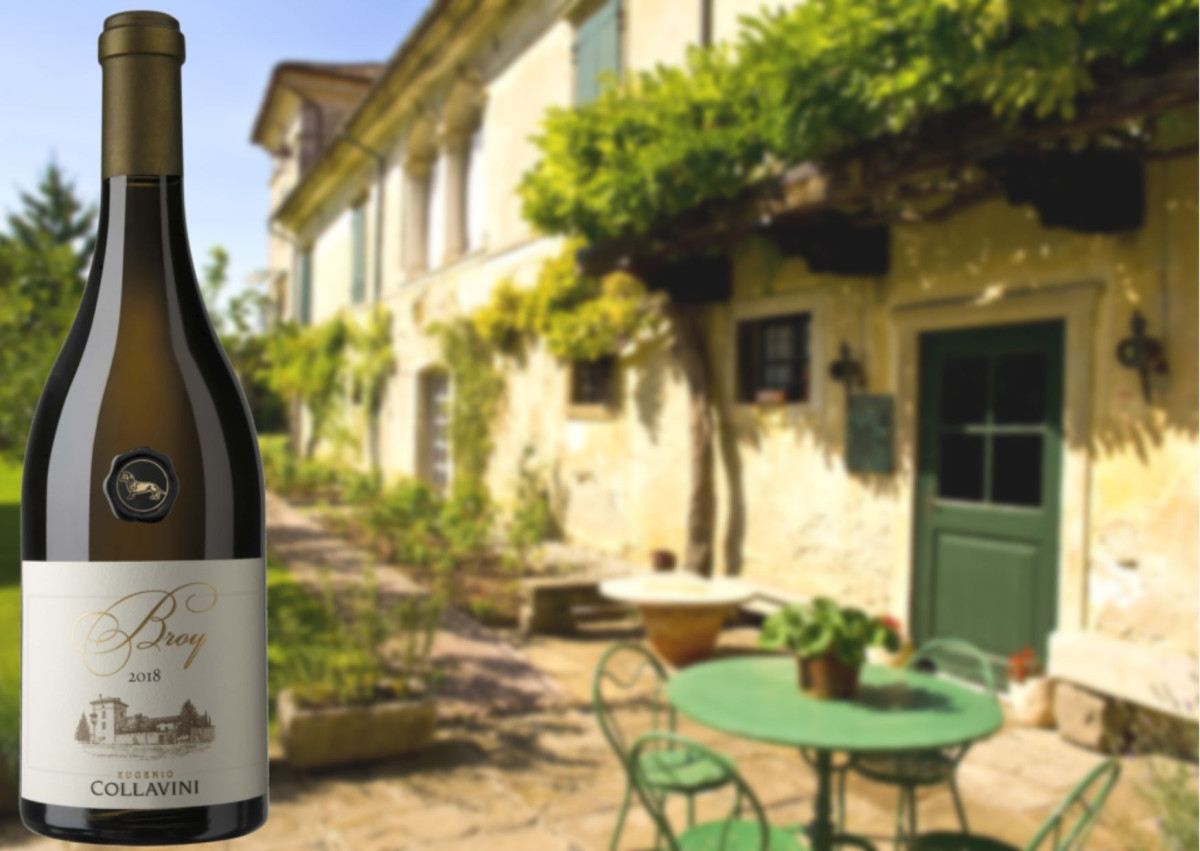 La cantina nasce nel 1896 ad opera del capostipite Eugenio, che opera subito acquistando uve e trasformandole in proprie. Nel solco di questa tradizione l'azienda cresce in numeri e valori nel corso degli anni Settanta e Ottanta per merito di Manilo Collavini, che oggi è affiancato in azienda dai figli Giovanni e Luigi.
La cantina Collavini basa la sua produzione su circa 150 ettari di vigneti in conduzione; i vignaioli seguono un meticoloso disciplinare interno, messo a punto per poter arrivare ad uve di altissima qualità, condizione indispensabile per ottenere un vino d'eccellenza come il Collio Bianco "Broy". Prende il nome dal "broili", il piccolo orto che circondava le vecchie case friulane nel quale, spesso, si piantavano viti atte a produrre il vino "di casa". Le uve di Friulano (50%) e Chardonnay (30%) vengono parzialmente appassite in fruttaia tramite aria ventilata, con umidità prossima allo zero ed alla temperatura di 12°C.
La vinificazione prevede la macerazione delle uve diraspate direttamente in pressa per una notte. Segue la fermentazione, quindi l'affinamento, non solo in acciaio, ma anche in botticelle di roveri francesi di antica stagionatura. Di un colore giallo paglierino, con tenui riflessi verdognoli; al naso intenso e persistente, con ricordi di frutta tropicale matura, di miele d'acacia, scorza d'arancia e fiori gialli, chiude con una delicata nota balsamica.
The winery was founded in 1896 by Eugenio, who immediately works by buying grapes and transforming them into his own. Thanks to this tradition, the company grew in numbers and values ​​during the seventies and eighties thanks to Manilo Collavini, who is now supported in the company by his sons Giovanni and Luigi.The Collavini winery bases its production on approximately 150 hectares; the winemakers follow a meticulous internal disciplinary, developed to be able to obtain grapes of the highest quality, an indispensable condition for obtaining an excellent wine such as the Collio Bianco "Broy". It takes its name from the "broili", the small vegetable garden that surrounded the old Friulian houses, in which vines were often planted to produce the "home-grown" wine. The Friulano (50%) and Chardonnay (30%) grapes are dried in the fruit cellar by ventilated air, with zero humidity and at a temperature of 12 ° C.The vinification foresees the maceration of the destemmed grapes directly in the press for one night. Fermentation follows, then refinement, not only in steel, but also in old-seasoned French oak barrels. Of a straw yellow color, with light greenish reflections; intense and persistent nose, with flavors of ripe tropical fruit, acacia honey, orange peel and yellow flowers, closes with a delicate balsamic note.